Agricultural development has contributed significantly to improving rural livelihoods. However, high-input, intensive farming systems are still having a negative effect on natural resources and ecosystems, and are one of the drivers of climate change.
CABI addresses this issue with an approach that is designed to make agriculture more sustainable and resilient known as Integrated Crop Management (ICM). We develop and promote innovative long-term solutions that increase agricultural productivity, while protecting and enhancing natural assets.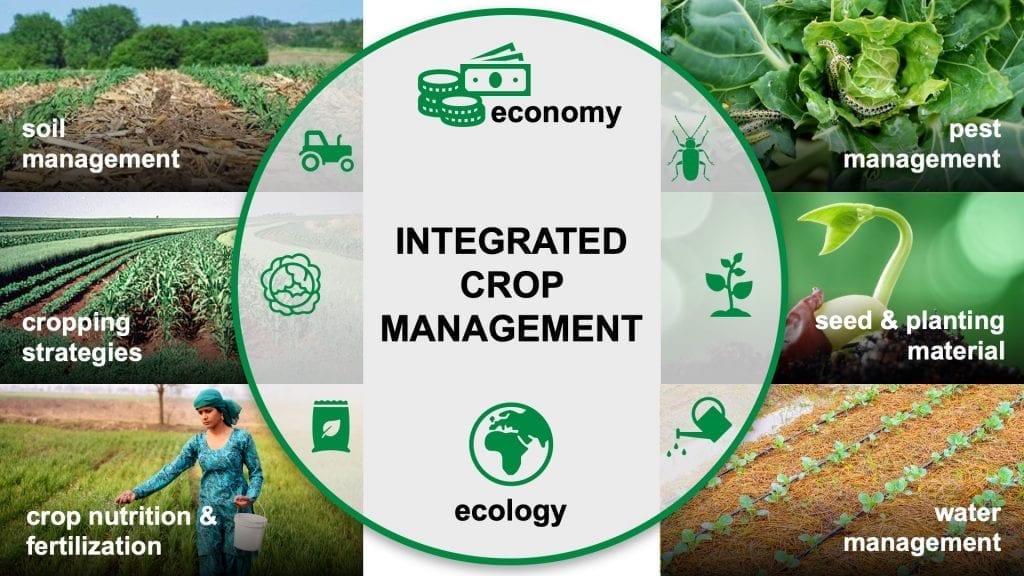 Combining local knowledge with new research and technologies, we take a whole-farm approach that encompasses all of the relevant socio-economic and environmental factors. We then deliver an ICM solution that will improve agricultural practice, and safeguard both natural resources and the surrounding communities.
To help drive innovation, we provide technical support and expertise to government bodies, agro-industries and other organisations in areas such as pest management, biological control, crop nutrition and climate-smart agriculture.
Implementing changes in farming and food systems is complex, which is why we involve multiple stakeholders, including those in the food and input supply chains. We have a growing number of diverse partners from the public and private sectors, with whom we design and implement projects.
Some outcomes and impacts of our work include:
Establishing a Department of Plant Protection in the Democratic People's Republic of Korea, and introducing Integrated Pest Management approaches in maize production which led to yield increases of over 10%
Reducing pest damage in apple production in Albania by up to five times, and increasing the yield of 'Grade I' apples by 30%
Delivering a post-graduate Master of Advanced Study programme in ICM, which has trained 66 agricultural professionals from 22 countries since 2015
ICM team members possess high levels of technical knowledge in agricultural, environmental and social sciences. They have experience of working within the international development context, and are proficient at adapting ICM approaches to different cultural and environmental situations.
Project highlights
Rational pesticide use training course jointly developed with the Department of Plant Protection of the Ministry of Agriculture in DPR Korea, and implemented across 8 pilot cooperative farms, with awareness of this topic created on a farm management level across the nation.
17,000 farmers trained on best agricultural practices in tobacco production in Argentina and 10,000 farmers trained in Turkey.
24 Trichogramma production facilities established in DPR Korea, producing sufficient parasitoids (natural enemies) to combat the Asian corn borer across 16,800 ha of maize.
Rice is the most important crop in southwestern China, Laos and Myanmar. Despite recent improvements, productivity is still low with millions of tons lost to pests, diseases and weeds. Intensive pesticide use has led to insecticide resistance, outbreaks of secondary pests and damage to farmers' health. This project is introducing a biologically based pest management approach to safely and sustainably increase rice production, improving the livelihoods of smallholder farmers in the region.
Agricultural production in DPR Korea is low, resulting in food shortages and the need for international aid. Ensuring food security is a priority for the government. We have helped the newly-established Department of Plant Protection to sustainably improve agricultural production by optimizing its ability to develop and implement plant protection strategies. We have enhanced their operational capacity, improved access to knowledge and facilitated interactions with international counterparts.