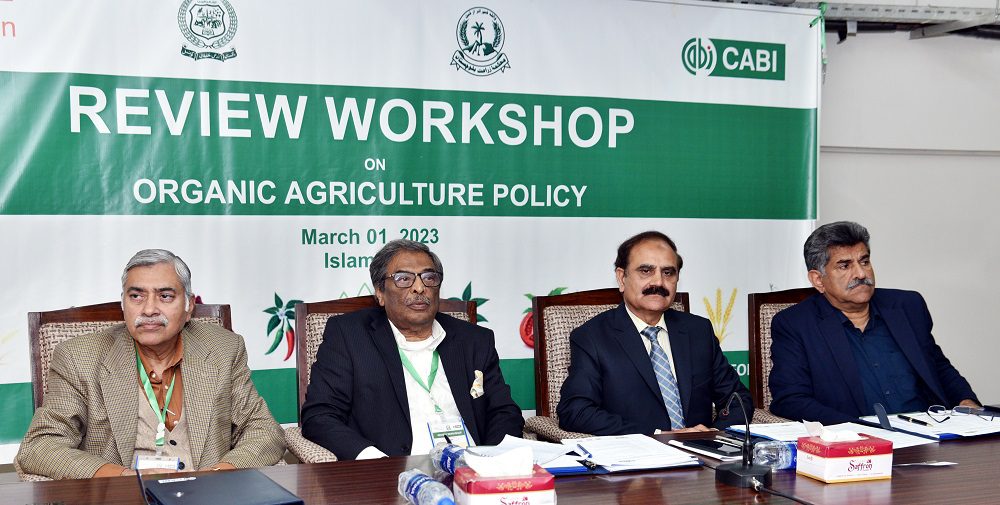 CABI's centre in Pakistan, together with project donors Laudes Foundation, has convened a workshop to review Pakistan's plans for an organic agriculture policy which will ensure a more sustainable approach to food and cotton production.
The move is part of an ambitious plan to promote organic agriculture in Pakistan and help alleviate poverty and mitigate the impacts of climate change.
Organic agriculture is a rapidly growing industry that has the potential to provide significant benefits to farmers, consumers, and the environment.
It minimizes the use of costly synthetic fertilizers, pesticides and herbicides. It also makes agriculture more sustainable and economically viable.
However, the policy landscape is constantly evolving and it is important to periodically review and update to ensure that the plans being created are effective and responsive to the needs of farmers, consumers and other key stakeholders.
As part of the CABI-led project 'Building the policy ecosystem for organic production in Balochistan, Pakistan,' the workshop was held at the National Agricultural Research Centre (NARC), Islamabad, and included representatives from CABI, the Pakistan Agricultural Research Council (PARC) and the Ministry of National Food Security & Research (MNFSR).
The project itself aims to develop a sustainable organic agriculture landscape that includes a robust and widely accepted organic agriculture policy, standards and regulation, and new business models at local levels that support organic agriculture.
It will support efforts to address issues regarding organic agriculture promotion including clear policy gaps and the unavailability of good quality organic seed and bio-inputs, making them available to those who need them – the producers.
Waseem Ishaq, Project Manager Organic Agriculture Policy-CABI, outlined the objectives of the project to the workshop and highlighted that linkages among industrial actors, federal and provincial level offices to enhance the availability of quality organic seed and bio-inputs will also be created.
Mr Ishaq said, "Conventional farming practices rely heavily on the application of chemical inputs and high-yielding varieties which has affected soil fertility and led to a loss in topsoil, organic matter and crop production.
"Due to increases in input costs and stagnant market prices of agricultural outputs, conventional farming also brings small profits. It is these factors and practices that pose a serious threat to future food security and has highlighted the role of sustainable agricultural systems.
"This workshop provided an important platform for stakeholders to come together and foster an open dialogue and debate to build support for the organic agriculture policy amongst policymakers and the public."
At a launch workshop for the project in October 2021, Mr Syed Fakhar Imam, the Federal Minister for MNFSR, said there is a "dire need to promote organic agriculture for safe and healthy food to local and international populations."
He added that there is also need for more efficient water management practices for future generations and a reduction in greenhouse gas emissions from the chemical-intensive conventional agriculture production system.
CABI's efforts in leading the policy development work was appreciated and it was recognised that the creation of the organic agriculture policy will play a pivotal role in boosting the domestic organic industry.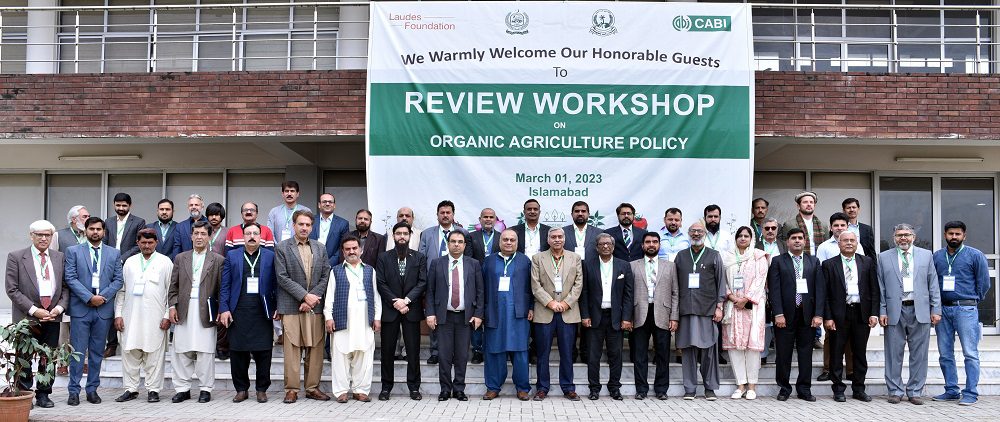 Additional information
Main image: The review workshop was an important platform to discuss the country's plans for policies and regulations towards greater organic agriculture 0 including the production of food and cotton (Credit: CABI).
Authors
Muhammad Waseem Ishaq – Project Manager-Organic Agriculture Policy
Dr Saif Ali – Project Officer-Organic Agriculture Policy
Contributor
Abdul Rehman – Deputy Director Programmes
Project page
Find out more about how CABI is working in partnership to build the policy ecosystem for organic production in Balochistan, Pakistan, on the project page here.
Other relevant news stories
See also the news stories 'CABI works in partnership to promote organic agriculture in Pakistan' and 'CABI produces Agricultural Transformation Plan for Pakistan Government to help boost economy by US$10bn a year.'