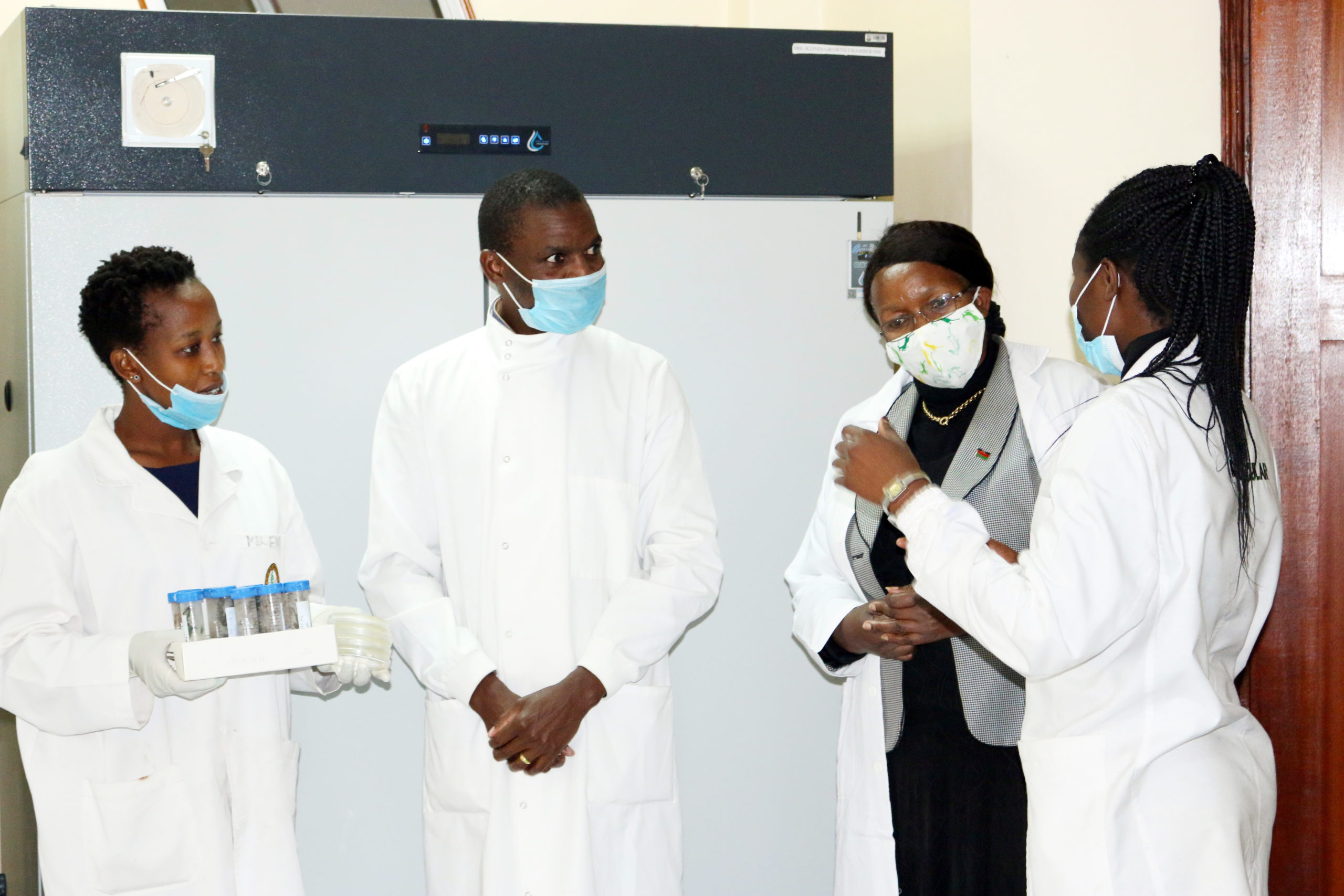 H.E. Agrina Mussa, the Malawian High Commissioner to Kenya (3rd to the right) listens to Oliviah Nyaundi Omwega, one of the KEPHIS Interns working in the potato surveillance project- image by Joseph Mulema, CABI.
14th September 2020 – Her Excellency Agrina Mussa, the Malawian High Commissioner to Kenya, recently toured several CABI-led projects being implemented in the country. The visits took place alongside consultations aimed at enhancing areas of collaboration between the two countries and improving farmer livelihoods in Malawi.
As one of the 50 CABI member countries, Malawi already enjoys a range of benefits including input into CABI's global development agenda and links to an international and regional network of partners.
During her visit to the Kenya Plant Health Inspectorate Service (KEPHIS), the High Commissioner learned how CABI is working with in-country scientists to conduct surveillance aimed at identifying and mapping the distribution of potato diseases in the country. Upon completion, important data on disease prevalence may guide future regulatory frameworks for certification, recommendations and measures for better management and control of the diseases. Potato is one of the food crops grown by farmers in Malawi.
Mr Simeon Kibet Kogo, the Acting Managing Director, and Ms Hellen Mwarey, Head of the Phytosanitary and Biosafety Services at KEPHIS, received the High Commissioner and explained how KEPHIS is working with CABI, specifically how their joint efforts have contributed to fulfilling mutual missions and visions. Parallels drawn during the visit identified how the potato surveillance initiative may directly or indirectly improve the livelihoods of numerous potato value chain actors, including the smallholder farmers in Malawi.
Most prominent was the KEPHIS internship programme where young scientists were being empowered with the knowledge to better detect and prevent potato pests and disease threats.
A subsequent visit to a joint project between CABI and Koppert showcased how the two organizations are helping farmers manage the tomato pest, Tuta absoluta , as tomatoes are another key crop grown by farmers in Malawi. The High Commissioner was shown how farmers are now using biological control methods such as pheromone traps and the predatory mirid – a beneficial bug. These biological management solutions are not only affordable but also safer to humans, livestock and the environment when compared to the traditional synthetic pesticides.
Rosemary Ng'ang'a a lead farmer in Oloitoktok, Kajiado county briefly hosted her and took her around her vegetable farm.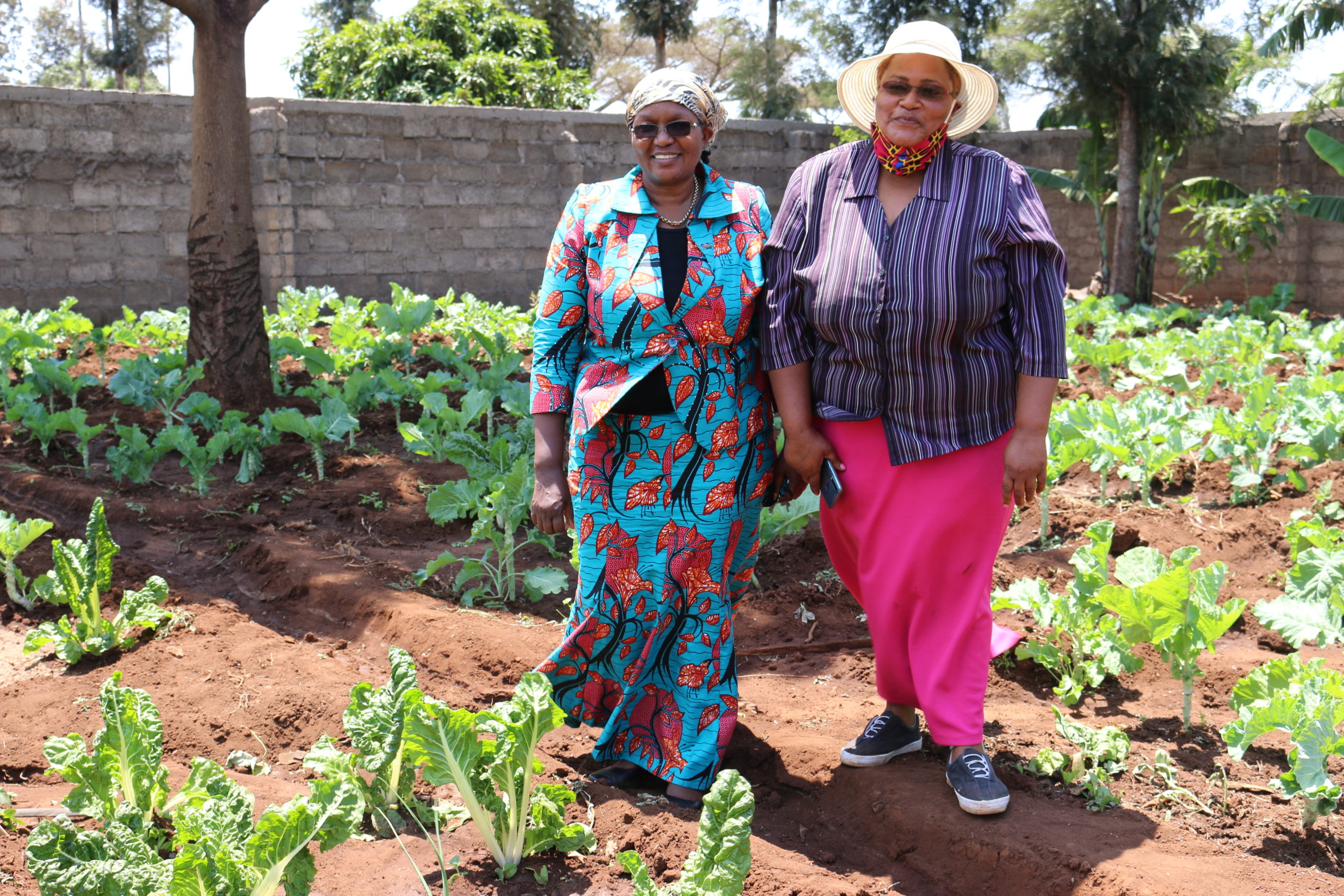 "I can now monitor and quickly respond to manage this pest and reduce the damage to my tomatoes. The amount of money I used to spend buying and spraying chemicals has also reduced," said Rosemary.
The visits and consultations are part of a long-standing relationship CABI has had with Malawi. The country has benefited from numerous development and capacity building projects implemented to date. The National Plant Protection Office currently enjoys free access to CABI's Crop Protection Compendium (CPC) and Pest Risk Assessment Tool.
Under the Breaking barriers, facilitating trade project, Malawi was among the four Africa countries that were able to update their national lists of pests for maize, soya beans, groundnuts and citrus. The country was also able to harmonize and simplify its phytosanitary border inspection procedures that enhanced trade with neighbouring Zambia.
It is envisaged that insights from the visits and ongoing consultations will promote and strengthen continued mutual engagement between CABI and Malawi in efforts geared at tackling agricultural and environmental challenges, including issues of global concern such as food security and climate change.