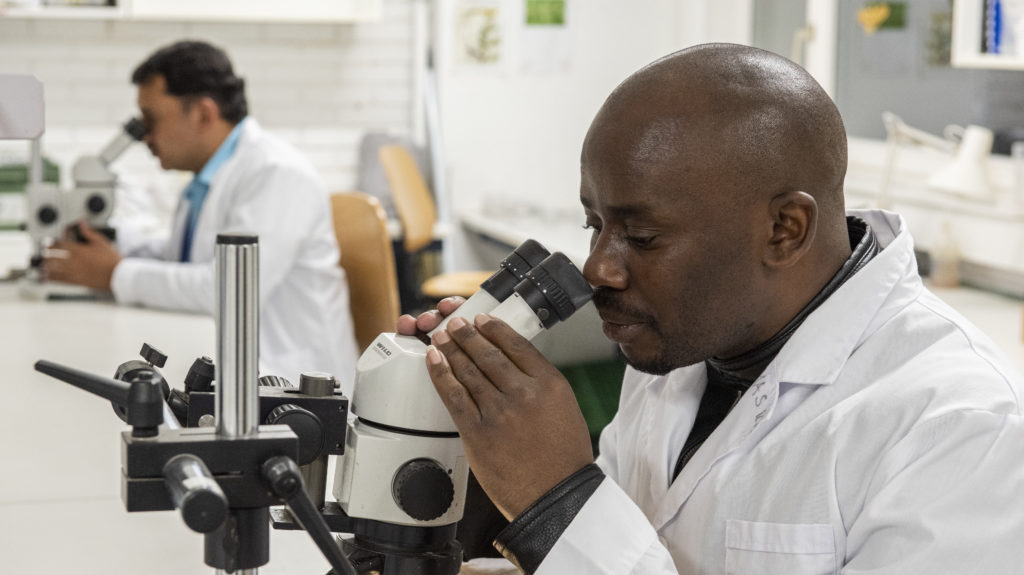 The Masters of Advanced Studies in Integrated Crop Management (MAS in ICM) course, coordinated by CABI and the University of Neuchâtel, now in its sixth year, celebrated the graduation of ten international students in November.
The MAS in ICM course is a post-graduate degree available to agriculture professionals from across the world. The ten-month course offers students the opportunity to excel in the agriculture sector by supplying comprehensive instruction on the principles of good crop management. The course has trained 71 specialists in agriculture from over 22 countries in Africa, Asia and Latin America since its inception in 2015.
Topics studied on the interdisciplinary programme include: soil management, seed selection, cropping strategies, pest and landscape management, water management, statistics, national and regional agricultural policies and more.
Participants receive valuable knowledge and skills which will help them to tackle critical issues such as food security and environmental sustainability once they are back in their home countries.
2020 was a unique year for the MAS in ICM course. Students started, as normal, in February but by March, course teachers had to make notable changes to the course arrangements in line with Covid-19 government regulations and to ensure the safety of the students. Instead of the traditional face-to-face classroom teaching, classes were taught online, which was a new concept for the course, and a completely new experience for the students.
Commenting on the changes this year, in response to the unexpected pandemic, students generally shared a strong sense of gratitude to the course organisers for innovating with technology to continue lectures despite the challenges and expressed their appreciation for the opportunity to experience distance learning first-hand.
Shoba Marimuthu, one of the graduates and a Field Officer in the Quality Assurance Department of NAMDEVCO (The National Agricultural Marketing and Development Corporation), Trinidad & Tobago, said: "Covid-19 was unfortunate timing for us but it was another challenge that we adapted to. Changing to being taught online was a learning curve, but it provided new experiences for me and without it, we would not have been able to learn. I plan to use this new way of learning to train farmers and officers when I return to work and this experience taught me exactly how to do it."
Manfred Grossrieder, CABI's MAS in ICM Course Coordinator, said: "With the frequently changing Covid-19 situation, 2020 was a challenging year for the MAS in ICM course, but thanks to efforts from all involved and the ongoing positive attitude of students, it turned out to be a very successful one. We're now developing an online version of the programme following our experiences of running the course this year."
As part of graduation requirements, all students submitted a thesis on topics relating to solving specific agricultural problems in their home countries. Some broad themes included agricultural policy formulation, gender balance in agricultural opportunities and improving national good agricultural practice standards through diversity, conservation, ecosystem services and landscape management.
The Masters of Advanced Studies in Integrated Crop Management is supported by the Canton of Jura, Plantwise and the Swiss Agency for Development and Cooperation. Due to the Covid-19 pandemic, the MAS in ICM course won't be running in its current format after the end of 2020. The programme team is working on an online version that is planned to be launched in 2022. Find out more about the programme here.
Additional Information
Photo: MAS ICM Class of 2020. (From left to right) Muhammad Aslam from Pakistan and Jordan Sichona from Zambia. Credit: Mark Henley for CABI