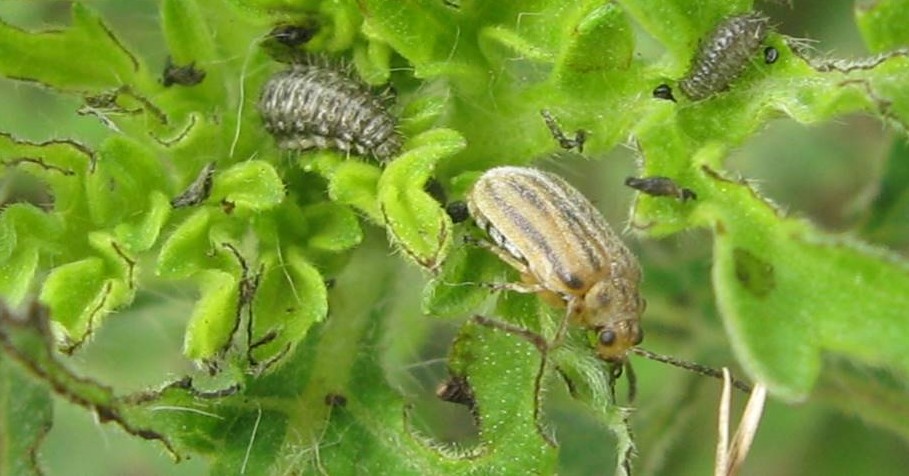 A team of international scientists believe that the accidentally introduced leaf beetle Ophraella communa poses a low risk to native European plant species other than the invasive hay fever-causing ragweed species (like common ragweed, Ambrosia artemisiifolia) which it does attack.
PhD student Benno Augustinus, who is being co-supervised by CABI's Dr Urs Schaffner and Professor Heinz Müller-Schärer, of the University of Fribourg – led the scientists in research that suggests O. communa has been found to cause only spill-over effects on Inuleae and Coreopsideae plant species, which does not damage them enough to have effects on the populations of these plants.
Ophraella communa, however, is thought to be an effective biological 'weapon' against ragweed – as outlined in a recent paper published in Nature Communications by lead authors Dr Schaffner and Professor Müller-Schärer – which reveals the humble bug could help relieve more than 2 million sufferers of allergies in Europe while saving more than Euro 1 billion in health costs.
The leaf beetle was accidentally introduced into Europe, where it was first found in Northern Italy and Southern Switzerland in 2013.
It spread across Northern Italy and reached Croatia in 2018. Ophraella communa reaches high densities in Northern Italy where it defoliates the common ragweed and reduces flower and seed production – the pollen of which can severely impact upon the health of hay fever sufferers. In some regions aerial pollen concentration has dropped by 80%.
In the latest paper, published in Biological Control, Mr Augustinus and his colleagues outline that the potential for non-target damage by O. communa to closely related native European plant species was previously unknown.
The scientists conducted a two-year extensive field surveys covering 18 populations of nine potential non-target species in Northern Italy with high densities of the leaf beetle but no evidence of substantial damage was found.
This research was supplemented by a common garden experiment and studies in the laboratory.
Mr Augustinus said, "We found no evidence of substantial non-target effects by O. communa that could potentially threaten populations of European native plant species that are taxonomically closely related to ragweed.
"During our field surveys, we found O. communa feeding damage in only one of 85 instances on non-target species, while we observed feeding damage during all 13 surveys on nearby A. artemisiifolia populations.
"The almost entire absence of non-target attack by O. communa on the surveyed populations of representatives of the tribes Coreopsideae and Inuleae agrees with the results from previously published field records and indicates a low risk of sustained non-target attack on the non-target species included in the field survey."
Nevertheless, the scientists conclude by suggesting that continued monitoring of populations of selected native plants, including Dittrichia graveolens and Pentanema helveticum, for potential non-target attack by the recently introduced O. communa in Europe should be carried out to determine if it has an impact on these species.
Additional information
Main image: Ophraella communa on Ambrosia artemisiifolia (Photo: Heinz Müller-Schärer).
Full paper reference
Augustinus, B.A., Gentili, R., Horvath, D., Naderi, R., Sun, Y., Truce Eleonoor Tournet, Anne-Marth., Schaffner, U., Müller-Schärer, H., 'Assessing the risks of non-target feeding by the accidentally introduced ragweed leaf beetle, Ophraella communa, to native European plant species,' Biological Control, 21 June 2020, DOI: 101.1016/j-biocontrol.2020.104356
The paper can be viewed here:https://www.sciencedirect.com/science/article/pii/S1049964420302097?dgcid=author  
Related News & Blogs
CABI News
20 September 2022