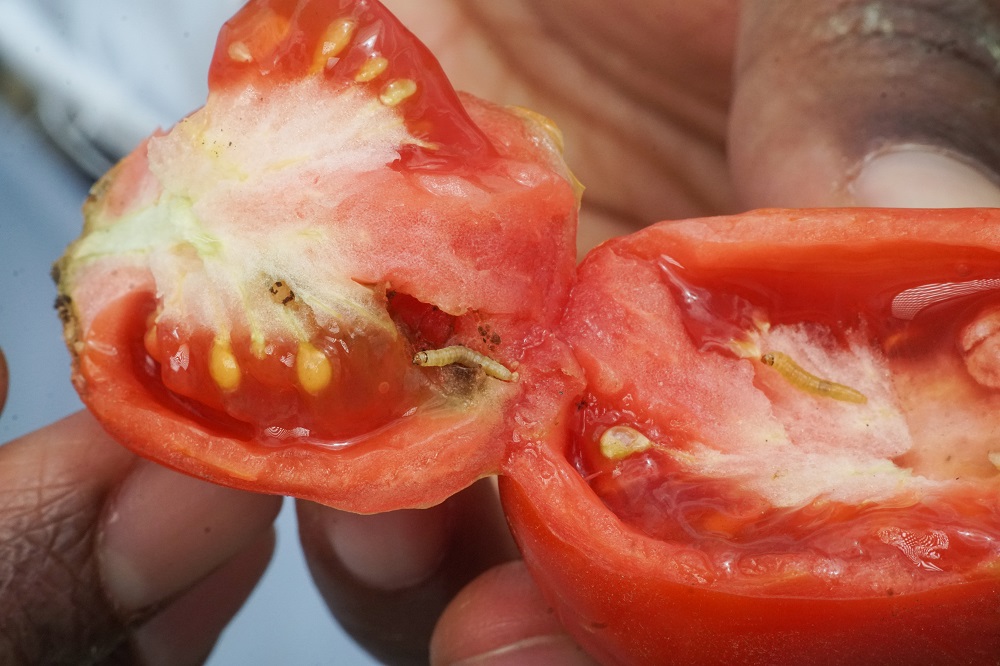 The Second International Congress of Biological Control (ICBC2) – co-organised by CABI and the International Organisation for Biological Control (IOBC) and sponsored by Koppert Biological Systems and Biobest – has been held successfully despite the COVID-19 pandemic.
World-leading experts in invasive crop pests and diseases and biological controls met, via online video conferencing, for the ICBC2 which provided a platform for multi and inter-disciplinary biological control research and application to tackle pests including the fall armyworm (Spodoptera frugiperda) and South American tomato pinworm (Tuta absoluta).
The event, which took place from 26-30 April, 2021, built upon the 1st International Congress of Biological Control held in Beijing, China, and the 1st International Conference of Biological Control held in Bengaluru, India, during 2018.
In total, nearly 50 poster presentations, almost 30 sessions and 3 panel discussions were included in ICBC2. These included CABI's Dr Ulli Kuhlmann, Executive Director, Global Operations, and Jennifer Lewis, Executive Director, International Biocontrol Manufacturer Association (IBMA), who led a panel discussion looking at what is being done to improve the update of biological controls from a multi-stakeholder perspective.
Other panel discussions featured Phillippe C. Nicot and Marc Bardin, from INRAE, France, who spoke about developing decision support systems to foster the use of biocontrol agents against plant diseases in the field, and CABI's Dr Urs Schaffner, Head Ecosystems Management, and Professor Nicholas Mills, of the University of California at Berkeley, who discussed creating synergies among the biological control approaches to promote the concept of 'One Health.'
Among the scientific sessions delivered by CABI scientists were two by Dr Yelitza Colmenarez, Director CABI Brazil Centre and Regional Coordinator for the Plantwise Programme – Latin America and the Caribbean, who examined regulatory challenges for the exchange and use of biological resources in South America and the management of invasive pests by 'south-south' collaboration. This last presentation was done in conjunction with Dr Malvika Chaudhary, Plantwise Regional Coordinator for Asia.
Other sessions from CABI staff included Dr Belinda Luke, Global Team Leader, PlantWise Plus, who spoke about 'BioSuccess' – an app to help determine the effects of climate change on the efficacy of a biopesticide. This was before CABI's Climate Change Manger Jonny Casey delivered a session entitled 'Climate-Smart Pest Management: nature-based solutions for the climate and environment.'
Furthermore, CABI's Dr Marion Seier, Senior Plant Pathologist; Team Leader – Invasive Species, UK, delivered a session on navigating regulatory procedures for weed biological control using non-native agents in the UK and Dr Lukas Seehausen, Research Scientist, Risk Analysis & Invasion Ecology, gave a session considering the suitability of the Asian parasitoid Ganaspis brasiliensis for classical biological control of Drosophila suzukii.
Dr Marc Kenis, Head Risk Analysis and Invasion Ecology at CABI, in his session posed the question 'can the immense success of the classical biological control of the cassava mealybug be repeated against the fall armyworm?' and Dr Tim Haye, Head Arthropod Biological Control at CABI, for his session presentation, asked 'Do ecological and fundamental host range of Trissolcus japonicus match in Europe?'
Finally, Dr Emma Jenner, Strategic Planning and Operations Manager at CABI, spoke about The CABI BioProtection Portal: a free online information resource for advisory services and growers.
Dr Kuhlmann said, "The congress served as a unique meeting point for scientists and practitioners who are working on a wide breadth of biological control targets including insect pests, plant and animal diseases, weeds and invasive vertebrates – whether they use importation, augmentation or conservation as approaches and whether they are interested in basic science related to biological control or in improving applications."
Additional information
Find out more about the ICBC2 – including details of the full programme – from the dedicated website iobc-icbc.com
Related News & Blogs
CABI News
20 November 2023