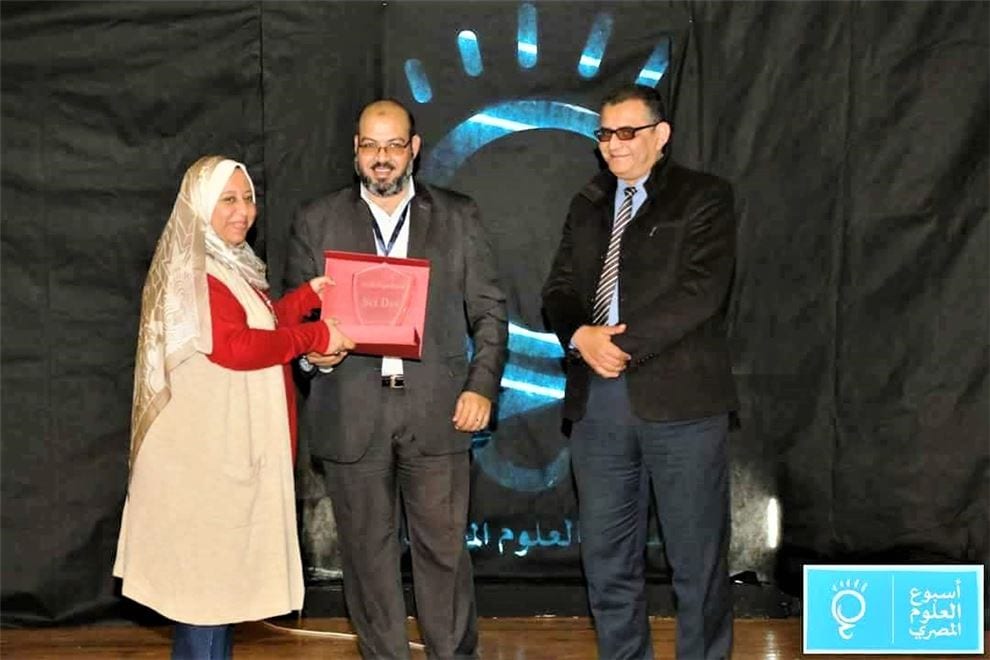 SciDev.Net – the world's leading source of reliable and authoritative news, views and analysis about science and technology for global development – has been honoured by the Egyptian Government for helping to found and support Egyptian Science Week.
The Middle East & North Africa (MENA) edition of SciDev.Net received the award from the Egyptian Academy of Scientific Research and Technology as part of an event at Nile University, October City in Egypt, which launched Egyptian Science Week activities for 2018.
Bothina Osama, MENA regional coordinator for SciDev.Net picked up the award on behalf of the organisation, which is part of CABI, from Amr Abdelkhalek, Deputy Head of the Academy of Scientific Research and Technology in Egypt, and the co-ordinator of the Egyptian Science Week, Mohamed Aboud.
Bothina Osama, said, 'Our mission is to use independent journalist to help individuals and organisations apply science as part of their decision-making to drive equitable, sustainable development and poverty reduction.
'Egyptian Science Week is a great way for journalists, scientists and public audience to come together and share stories; to encourage science awareness, and inform public about how science can solve problems in agriculture and the environment.
'We are pleased that our part in getting Egyptian Science Week off the ground and running successfully for the past three years has been recognised by the Egyptian Government and see the event as a source of information for stories which may well be published for the world to see on SciDev.net.'
SciDev.Net operates editorially independently from CABI with its content overseen by an independent Editorial Advisory Committee whose role is to ensure our editorial independence protocol is adhered to.
SciDev.Net is made possible thanks to funding and support from the Swedish International Development Cooperation Agency (SIDA), the UK Department for International Development (DFID), the American Association for the Advancement of Science and The São Paulo Research Foundation (FAPESP).
Related News & Blogs
CABI News
27 November 2023