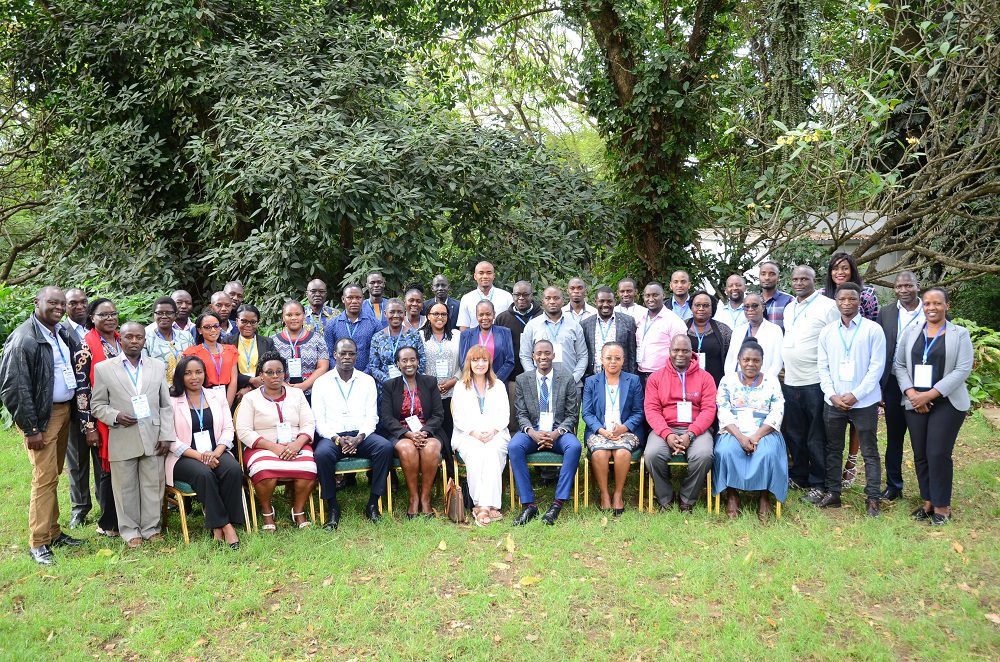 A project to help increase safe and efficient trade of agriculture in East Africa through enhanced sanitary and phytosanitary (SPS) systems is making good progress, CABI can report.
The EAC is one of the fastest-growing regional economies – with agricultural playing a major part. However, the trade of agriculture between EAC partner states is hindered by issues around unharmonized sanitary and phytosanitary (SPS) standards.
The SPS capacity assessment sought to determine investment opportunities and recommend other interventions that can be supported under the five-year USDA-supported Trade of Agriculture Safely and Efficiently in East Africa (TRASE) project.
TRASE is implemented by Land O'Lakes Venture 37 (V37) and has a specific focus on enlisted quarantine pests and diseases posing emerging threats.
CABI worked in partnership with law firm KO and Associates (KOA) to conduct a comprehensive SPS legal and technical assessment of five target East African Community countries (EAC) and collated results into two consolidated reports.
The aim was to help create more robust SPS systems – thereby strengthening the productivity and profitability of crops, resulting in greater food security, but also greater access to regional and international high-value markets.
The findings on Burundi, Kenya, Rwanda, Tanzania and Uganda can be found in 'Assessment of SPS Legal/Regulatory Framework in the EAC Partner States' and 'Assessment of SPS Systems in the EAC Partner States.'
To enhance compliance to regulatory and market requirements, TRASE project has invested in building capacity in both Animal Health, Plant Health and Food Safety Systems including support laboratory services.
In Plant Health, the TRASE project has supported CABI to develop a technical guide for Huanglongbing bacteria Liberibacter asiaticus (Asian greening disease) and a pest alert for EAC Partner States.
In addition, training on the development of the public-private partnerships (PPP) framework and a national plan for surveillance, notification, and emergency response was held with authorities, research, and commodity trade associations from partner states. The PPP framework and national plan were then later developed.
Recently, under TRASE, CABI has trained Plant Health Inspectors from NPPOs and the private sector horticultural apex associations. A virtual training workshops on the practical implementation of various International Plant Protection Convention and International Standards for Phytosanitary Measures to enhance regulatory compliance.
The training was delivered online using USDA SPS course on Plant Health and face-to-face training. The topics included WTO SPS Agreement, selected International Phytosanitary Measures on Inspections, Integrated measures for pest risk management, PPP frameworks to enhance application of phytosanitary measures and increase compliance and trade.
It also included the development of Standard Operation Procedures on sampling, inspections and certification for priority agricultural commodities.
Dr MaryLucy Oronje, SPS Scientist at CABI's regional centre for Africa in Nairobi, Kenya, said, "The current interventions by TRASE project through the capacity building and development of SOPs will enhance technical capacity of both public and private sector players on inspection procedures, and compliance to Phytosanitary regulations.
"Assessment conducted so far, as well as the training workshops, is seeing the project make good progress on increasing the capacity for surveillance, notifications and emergency response to crop pests and diseases in the focus countries."
Additional information
Main image: Delegates gathered at a recent workshop held as part of the work to help East Africa enhance trade in agricultural commodities through compliance to sanitary and phytosanitary (SPS) standards (Credit: Land O'Lakes Venture 37).
Project page
Find out more about how CABI is helping to increase safe and efficient trade of agriculture in East Africa from the dedicated project page.
Relevant blog
'Working in partnership to increase safe and efficient trade of agriculture in East Africa.'