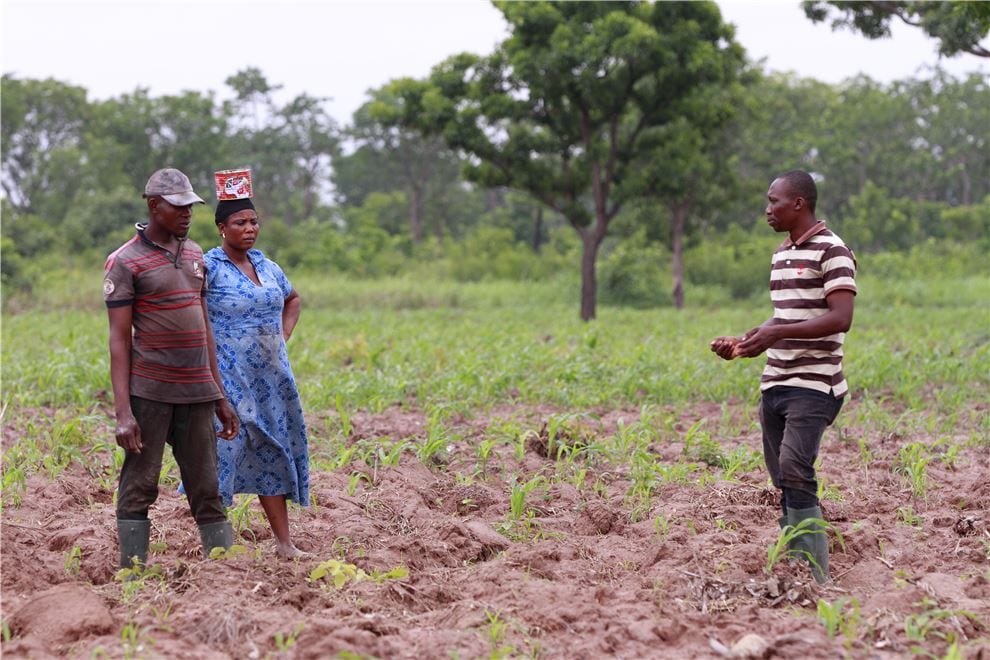 A major new report published by CABI has revealed that losses due to fall armyworm are lower than projected in 2017 and the pest is still primarily focussed on maize rather than any other potential host crops. Better monitoring, swift responses by governments and farmers and an increase of natural enemies attacking the pest all help in mitigating the devastating crop losses it can cause.
In the report, funded by the UK Department for International Development (DFID) and the Netherlands Directorate-General for International Cooperation (DGIS), CABI scientists confirm that the fall armyworm is now present and causing damage to crops in 44 countries in Sub-Saharan Africa. It has also recently been reported in India and poses a threat to other suitable areas in Asia.
The revised estimates indicate that the potential impact of fall armyworm on maize production across 12 major African countries is lower than previously estimated at 4 to 18 million tonnes annually, with an economic value of between US$1 to 4.6 billion per annum.
Despite the reduction in the 2018 continent-wide maize loss estimates compared to 2017, the perceived losses are still very significant, particularly for a sector made up predominantly of low-income smallholders growing maize and other crops for subsistence and sale.
The report makes a number of recommendations aimed at advisory services, regulators, researchers and those responsible for the national coordination of ongoing management of the fall armyworm. It  also highlights advancements in the monitoring and control of the pest, as part of an expanding set of available Integrated Pest Management (IPM) tools, including:
Biopesticides: A recent paper by CABI scientists* identified 12 biopesticides which are considered effective against fall armyworm and are already registered for other pests
Biological control: Mortality due to local natural enemies of fall armyworm is already reaching high levels in some cases
Better monitoring: The Android app by FAO (FAMEWS) and other digital tools will improve the collection of data for analysis of damage and fall armyworm biology
Agronomic and cultural practices: Intercropping maize with legume crops (beans, soybean and groundnut), as well as using repellent and attractant companion plants, can help to reduce damage
Effective use of pesticides: While fewer farmers used pesticides in 2018 compared to 2017, they are often used without appropriate safety precautions, so recommending pesticides remains potentially risky
Insect-resistance maize: Currently being developed by CIMMYT, five hybrids look promising and may be available within two to three years
Traditional pest control methods: Studies into the effectiveness of sand, ash, chilli powder, detergents and other substances are ongoing
Dr Roger Day, CABI's Programme Executive, Action on Invasives, said, 'The reduction in estimated losses highlighted in our Evidence Note is in part encouraging. This could be due to a combination of climatic factors, the build-up of natural enemies and farmers getting better at estimating fall armyworm damage. But caution must be exercised especially as the relationship between environmental suitability and level of loss has yet to be established.
'Our report acknowledges and advocates the use of Integrated Pest Management approaches to fight fall armyworm – which continues to devastate crops in Africa and now India – while also recognising that there is debate about the importance of individual elements with IPM approaches.
'A coordinated strategy for fall armyworm management and control is important and we offer a number of recommendations for advisory services, regulators and researchers to note.'
The recommendations include those responsible for national coordination using subsidies to encourage the use of low-risk control methods instead of pesticides, advisory services using a combination of traditional and new communicaton methods to pass on advice to farmers, regulators working with industry associations to stop companies selling unregistered and/or dangerous products and researchers continuing to study host plant resistance and classical biological control.
As part of a global effort to roll out a sustainable integrated fall armyworm management programme adapted to the African context, 35 organizations have united their efforts in a global coalition of research for development partners. The new consortium focuses on developing a shared vision of how farmers should fight against this pest. The International Consortium members will hold their first face-to-face meeting and discuss findings from this Evidence Note and other research at a conference on 29-31 October 2018 in Addis Ababa, Ethiopia.
Read more:
Related News & Blogs
CABI News
20 November 2023