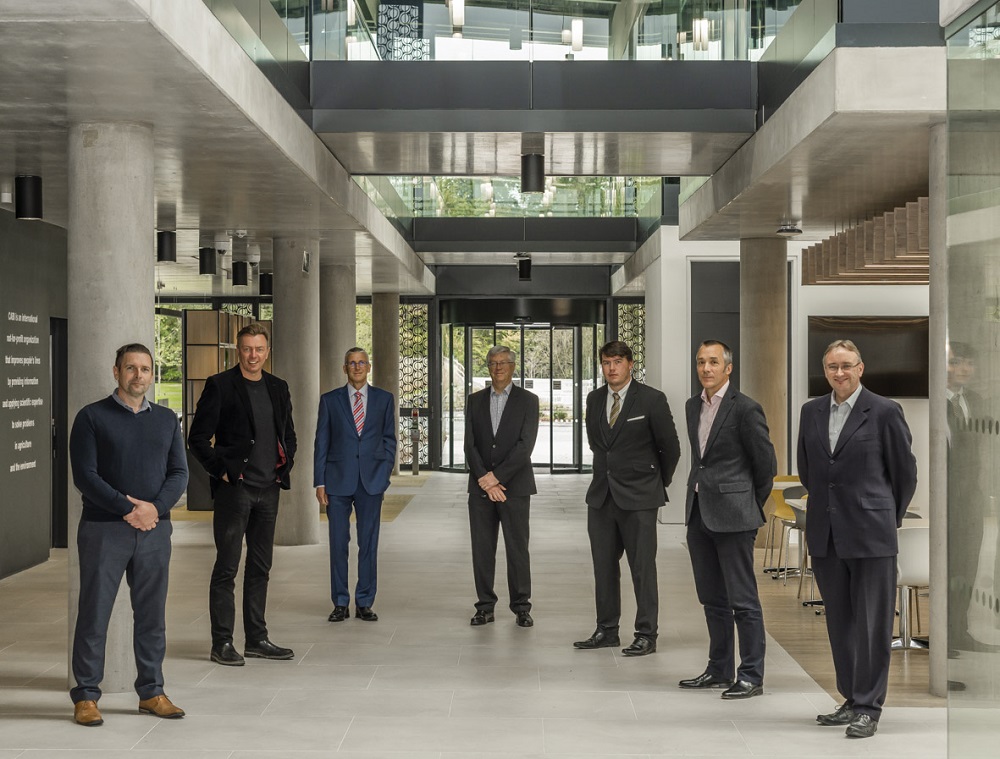 The completion of CABI's new state-of-the-art corporate office in Wallingford builds upon its commitment towards a more sustainable world as its innovative design leaves less of a carbon footprint amidst a landscape rich in biodiversity.
Representatives from CABI, including its new CEO Dr Daniel Elger and former CEO Dr Trevor Nicholls, joined property developers CALA Homes, architects Scott Brownrigg, project managers Ridge and Partners LLP (Ridge) and builders Barnwood Construction for a group photo to mark the opening of the building.
The new corporate office features a photo-voltaic solar array system to harvest the sun's energy, an extensive lightweight sedum green roof and a curtain wall system to allow for natural ventilation. Rooflights also provide natural top light to help reduce demand for electric lighting and help lower CO2 emissions.
Both CABI and CALA Homes have also been mindful of landscaping which is sensitive to the location – an Area of Outstanding Natural Beauty (AONB) – with the planting of cypress trees, native hedgerows, low shrubs, ornamental plantings, perennial flowers and even a meadow to attract a broad range of insects, birds and other wildlife.
The move to the new corporate office, which is on the same site as the old office – a former school from the 1960s, was made possible from the sale of land to CALA Homes to allow the 91-home Carmel Meadows development to be built off Nosworthy Way.
The properties include 18 affordable homes to meet local need and, as part of the development, CALA Homes is also contributing £1million towards local infrastructure and facilities.
Former CABI CEO Dr Trevor Nicholls, who was instrumental in bringing the new CABI corporate office to fruition before retiring, said, "On behalf of my EMT colleagues and all CABI staff worldwide let me thank all of our professional advisers, partners and suppliers for their work in helping us achieve this exciting milestone in CABI's history.
"We now have an office that we can truly be proud of which is fitting for an international organisation, visited by guests and staff from around the world. It is truly in keeping with our mission and values to protect the environment and biodiversity whilst also being an impressive local landmark that will put us on the map more visibly in the community."
At the heart of this project is CABI's commitment to encouraging biodiversity and protecting the environment. The design is highly energy efficient with detailed strategies for materials, orientation and structures. A passive ventilation system has been devised and the design includes a careful selection of materials for the building fabric, which will reduce energy consumption, to embrace the aim of low carbon use in operation.
Recently appointed CEO at CABI Dr Daniel Elger is among the first members of staff to move into the new headquarters, which also serves as the hub for CABI's publishing business. He said: "I am delighted to be leading a team of professionals at our corporate office who are working with colleagues in our global network of centres to help millions of smallholder farmers around the world grow more and lose less to crop pests and diseases."
Jolyon Price, Equity Partner at Ridge said: "CABI, together with the Ridge team, has navigated this important project through many challenges and achievements over the past ten years. We have overcome planning hurdles, been responsible for the appointment of the full consultant team and, most recently, we have managed successful completion of the build through the Covid-19 pandemic. The Ridge team, with Scott Brownrigg, have remained completely dedicated to supporting CABI all the way through the life cycle of the project, from concept to completion, and we are all very proud of the end result."
Scott Brownrigg Director Ed Hayden said: "A traffic light system alerts users when the building gets too hot or doesn't have enough fresh air. Turning from amber to red prompts the occupants to open their windows and increase the levels of fresh air in the building. It is designed to rely on communication and cooperation between the building and its users, rather than being heavily M&E driven."
Matt Carr, Contracts Manager from Barnwood Construction, said: "We are delighted to see CABI move into their 'state of the art' new office facility and start taking advantage of the many great features of the building. The vision and leadership from CABI, supported by the rest of the team, has demonstrated how new buildings can meet the modern demands of work space whilst still supporting a sustainable environment. Despite many challenges, not least the current pandemic, we are very pleased to be part of the team to have delivered such a first class building."
Stala Thomson, Sales and Marketing Director at CALA Homes Chiltern, said, "This is a significant development for Wallingford and South Oxfordshire, both in terms of the provision of much-needed new homes and the retention of a globally-renowned organisation in the UK.
"We're delighted that the completion of CABI's headquarters is allowing for more work to get underway and that the joint vision that both organisations have had for this site is now becoming a reality."
With the building now complete, CABI will begin moving into their eco-friendly new home whilst following UK Covid-19 guidelines.
Additional information
Main photo: (left to right) Matt Carr, Ed Hayden, Dr Daniel Elger, Dr Trevor Nicholls, Aaron Wheeler, Sales Advisor at CALA Homes, Jason Ward, Partner, Building Surveying at Ridge, Steve Gray, Associate Civil Engineer at Ridge (Copyright: Hundven-Clements Photography).

Video
CABI
CABI is an international not-for-profit organization that improves people's lives by providing information and applying scientific expertise to solve problems in agriculture and the environment.
Through knowledge sharing and science, CABI helps address issues of global concern such as improving global food security and safeguarding the environment. We do this by helping farmers grow more and lose less of what they produce, combating threats to agriculture and the environment from pests and diseases, protecting biodiversity from invasive species, and improving access to agricultural and environmental scientific knowledge. Our 50-member countries guide and influence our core areas of work, which include development and research projects, scientific publishing and microbial services.
We gratefully acknowledge the core financial support from our member countries (and lead agencies) including the United Kingdom (Foreign, Commonwealth and Development Office), China (Chinese Ministry of Agriculture and Rural Affairs), Australia (Australian Centre for International Agricultural Research), Canada (Agriculture and Agri-Food Canada), Netherlands (Directorate-General for International Cooperation, and Switzerland (Swiss Agency for Development and Cooperation). Other sources of funding include programme/project funding from development agencies, the fees paid by our member countries and profits from our publishing activities which enable CABI to support rural development and scientific research around the world.
CALA Homes
CALA Homes, part of the CALA Group, is a major UK home builder focused on building well-designed, high quality homes in prime locations throughout the South of England, the Midlands and Scotland.
Key Facts:
• In the 18 months to December 2018, CALA sold over 3000 homes and announced record profit before tax of £122.4m and also record revenues of £1,220.8m.
• CALA employs more than 1,000 people across 10 offices and more than 70 developments
• CALA Homes has received the maximum 5 Star rating in the Home Builders Federation's National New Homes Customer Satisfaction Survey for 2019. On average over the past 10 years, the independent survey has found that more than 93% of our customers would recommend CALA to a friend.
• In 2017, and for the second consecutive year, CALA has collected the Silver award for 'Best Large Housebuilder' at the WhatHouse? Awards. At the 2018 Scottish Home Awards, CALA received the Customer Service Excellence Award for the third year running. In 2019, CALA was named Home Builder of the Year at the Homes for Scotland Awards.
• CALA is proud to be a Gold Patron of the Prince's Trust, our national charity partner since 2015.
• In March 2018, CALA Group was acquired by Legal & General Group, the insurance, savings and investment management company.
• CALA started as the City of Aberdeen Land Association in 1875 and was the first Scottish company listed on the London Stock Market. As CALA is an acronym it is always reproduced in upper case.
For further information visit www.cala.co.uk
About Ridge
Ridge is an award-winning, multidiscipline property and construction consultancy offering a Partner led approach that delivers scale and expertise with a personal touch.
Services include town & country planning, project & cost management, architecture, surveying, design, engineering, health & safety, expert witness and property consultancy with vast experience across all public and private sectors. An entrepreneurial and dynamic, forward-thinking business, Ridge puts quality and reliability, first and foremost with a meticulous attention to detail and customer care.
"We help our clients create better, more sustainable places for people to live, learn and work."
Founded in 1946, Ridge now employs over 600 people in 11 offices across the UK and has successfully delivered projects in over 75 countries worldwide.
Scott Brownrigg
We are a global design leader ranked 11th largest in the UK and within the Global Top 100 architectural practices. We have a Vision to transform the industry and enrich lives through the built environment to create a better world.
We undertake projects across all major sectors from business space, education, residential and mixed use through to advanced technologies, hospitality, civic and cultural, transport and defence.
We have studios across the UK in London, Edinburgh, Guildford and Cardiff and international studios in New York, Singapore and Amsterdam. These together with strategic alliances in the Middle East and Hong Kong enable us to serve our growing international client and project base.
We live for opportunities to push ourselves, creatively, in business and as a team.
About Barnwood Construction
"Throughout our history, our focus has always been on what matters most to our clients: commercial value, skill and integrity, deep sector knowledge and a practical, collaborative approach."