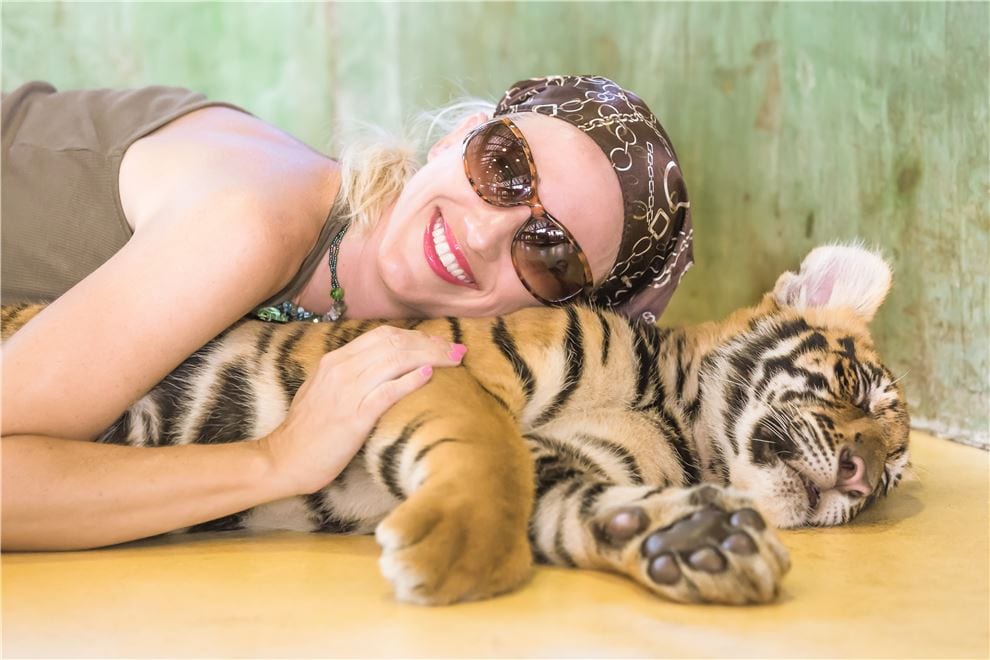 A new book published by CABI – looking at the meaning of 'animal welfare' and its role in tourism, in relation to ethics, animal rights, and human obligations to animals,  – has been launched, with the authors Neil Carr and Donald Broom at this year's CABI symposium on tourism and animal welfare.
Donald Broom also took the opportunity to speak about 'Sentience, Welfare, Ethics and Human Entertainment' as one of seven speakers at the event held at London South Bank University (Wednesday 13 June 2018).
The book, which shares the title of the symposium ' Tourism and Animal Welfare',  firstly explores the nature and diversity of the position and role of animals in tourism while the second part comprises case studies and opinion pieces offering different perspectives on the subject, and discusses how the tourism industry and the welfare needs of animals can co-exist. The contributors include Lee Durrell and Jane Goodall DBE.
Photo: Neil Carr and Donald Broom discuss their book with Claire Parfitt
Among the other speakers who presented at the symposium – chaired by María Diez-Leon of the Royal Veterinary College – before a panel discussion were:
Presencing Animal Welfare in Tourism, Glen Cousquer, University of Edinburgh
How the Travel Industry is Managing Animal Welfare, Clare Jenkinson, Association of British Travel Agents
Tigers and Tourists: How to change minds and influence people, Tom Moorhouse, WildCRU, University of Oxford
A Veterinary Perspective on Animal Welfare and Tourism, Stuart Patterson, Royal Veterinary College
Building Strategic Partnerships, Daniel Turner, ANIMONDIAL
Elephants and Tourism: A pathway to an elephant-friendly future, Jan Schimdt-Burbach, World Animal Protection
Claire Parfitt, Senior Commissioning Editor at CABI, said, 'The symposium was an exciting opportunity to bring together an expert line-up of speakers, from across different fields and industry sectors, to examine the many complex issues involved in the use of animals in tourism. I hope this can be a starting point to generate further discussion and future collaboration on how animal welfare in tourist settings can be improved going forward.
"The event was also the ideal time to launch 'Tourism and Animal Welfare' which highlights how interconnected animal welfare issues and sustainable tourism really are.'
Exhibitors at the symposium included the IFAW (International Fund for Animal Welfare) and World Animal Protection.
Additional information
Tourism and Animal Welfare, Neil Carr and Donald M Broom, May 2018, can be purchased from CABI Publishing here.
Book reviews:
 'This text is long overdue and timely. Carr and Broom have placed the issues firmly in the broader context of the relationship between our species and the others which share this planet with us. The text helps us to understand the issues and the context and to make better-informed choices.' – Harold Goodwin, Responsible Tourism Partnership
'The core of this book is 14 fascinating chapters from people working in the field. Some stress the responsibility of the industry to protect the animals they rely on, while others put the onus on the individual tourists to ensure that animals are not mistreated. Perhaps most intriguingly, many suggest that tourism can in some cases be essential for the future of animals and their habitats. Animal-based tourism will continue to grow; all stakeholders can and must work together to make this growth beneficial for humans, animals and our fragile world.' – Michael Appleby, University of Edinburgh
Blogs on tourism and animal welfare:
A series of blogs in support of the symposium on tourism and animal welfare, by Richard Ssuna, Stephen Blakeway, John Sellar and Sara Dubois, can be found on the CABI blog here.
Related News & Blogs
CABI News
CABI and Equality in Tourism are holding a symposium, which will debate ways to increase gender equality in the tourism industry, to launch a new CABI book edited by Dr Stroma Cole entitled 'Gender Equality in Tourism: Beyond Empowerment.'
20 August 2018