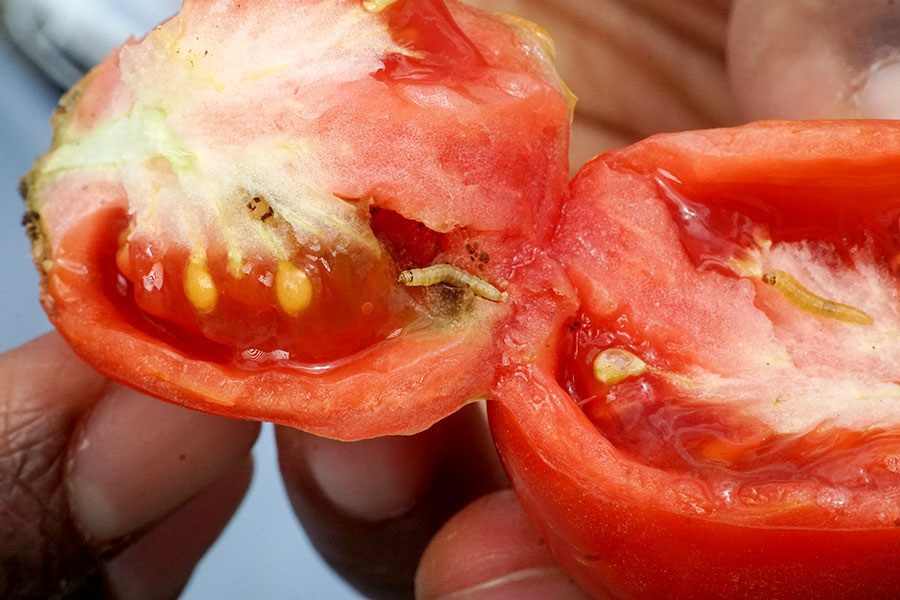 CABI is calling on a range of organisations working in agriculture to help them count the economic cost of a multitude of invasive alien species (IAS) – such as the Fall armyworm (Spodoptera frugiperda) and tomato leaf miner (Tuta absoluta) – to Africa by taking part in a major new survey.
The study, conducted by CABI's Action on Invasives programme with funding from the UK Department for International Development (DFID) and the Netherlands Department for International Cooperation (DGIS), is looking to collate an estimate of the costs people across Africa incur either directly or indirectly related to the presence (or prevention) of IAS.
Invasive alien species (IAS) are defined as plants, microorganisms and animals that have been introduced outside of their natural range or outside of their natural dispersal potential as a result of human activities, and have adverse effects on the environment, economy or human health. For the purposes of the current survey, the focus is on species whose origin is outside of Africa.
Dr Bryony Taylor, Senior Project Scientist who is leading the work, said, "As well as collating more obvious costs such as those incurred through yield loss, or the costs of management, we would also like to collate less obvious costs incurred, such as reduction in recreational revenue, or a reduction in the number of animals that a piece of land can sustain."
It is hoped that government officials from Ministries of Agriculture, and the Environment will join extension and plant protection officers, land managers, universities and research institutions, as well as NGOs and international organisations, in taking part in the online questionnaire.
The survey will be cross cutting across many sectors which are affected by IAS, and responses gathered will be combined with information collated from published literature on the current economic impact of IAS to Africa, to give a holistic overview of the costs incurred.
Dr Trevor Nicholls, CABI CEO, said, "The economic impact of IAS has not been documented for most species and countries in Africa. Consequently, there are major gaps in data due to the relatively low number of species for which estimates have been made, and countries in which no or only very limited data have been collected.
"Filling these gaps is vital if we are to enable policy makers to prioritise work for the prevention, management and control of invasive species, as well as allowing countries to mitigate the economic impact of IAS.
"This study is, of course, at the heart of CABI's mission to help farmers grow more and lose less to crop pests and diseases – increasing their livelihoods as well as working closely with partners to achieve local, regional and national food security within the framework of the UN Sustainable Development Goals."
Regulatory organisations (National Plant Protection Organisations) and land users/managers (nature reserves and national parks etc) have already been contacted to take part in the study.
The data obtained from the literature review and survey will also form the basis of a paper which will be submitted for possible publication in a peer-reviewed journal.
You can access the survey here: https://innsafrica.onlinesurveys.ac.uk/estimating-the-cost-of-invasive-alien-species-to-africa-c
For any queries about the research please contact Dr Bryony Taylor at b.taylor@cabi.org
Additional information
Photo: The tomato leaf miner (Tuta absoluta).
Learn more about some of the major invasive alien species in Africa from CABI's Invasive Species Compendium and/or the Global Invasive Species Database.
Find out more about CABI's work within the Action on Invasives programme from the website.
Related News & Blogs
CABI News
20 November 2023