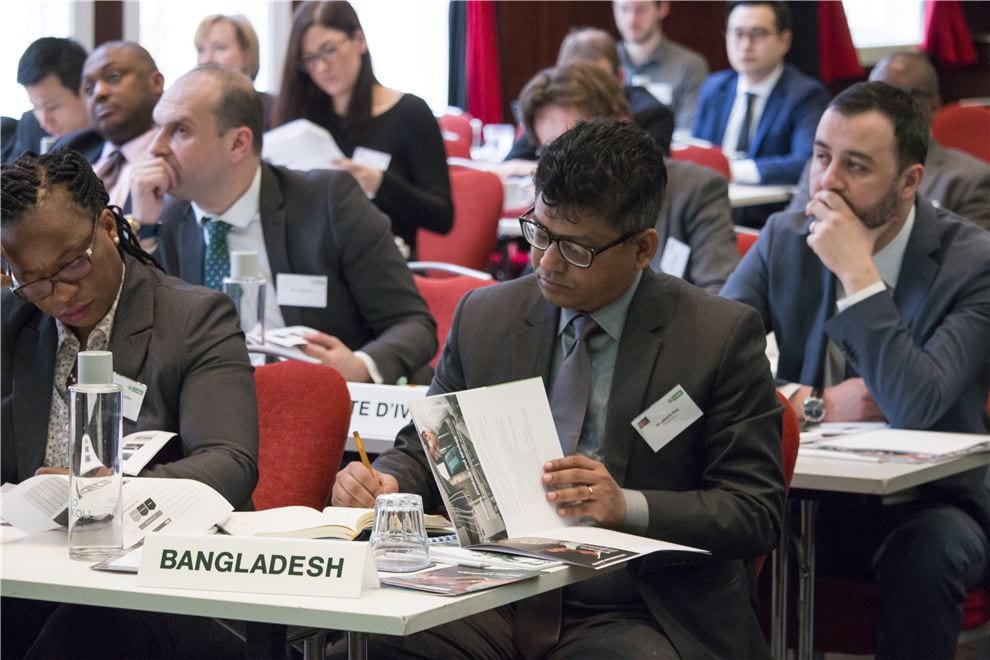 The fight against a myriad of invasive species, which costs the global economy around US$1.4 trillion each year, was top of the agenda at CABI's 398th Executive Council meeting held yesterday (7 February 2018) at the Hallam Conference Centre in London.
CABI CEO Dr Trevor Nicholls told the delegates, representing 36 CABI Member Countries, Board Members and CABI staff, that the organisation's Action on Invasives programme is now in full flight and that the UK Department for International Development (DFID) and Directorate General for International Cooperation (DGIS, Netherlands)-funded programme aims to protect and improve the lives of 50 million poor rural households impacted by invasive agricultural pests such as the Fall Armyworm (FAW).
The fight against FAW, in particular, was highlighted with reference to the publication in September of CABI's 'evidence note' on the pest 'Fall Armyworm: Impacts and Implications for Africa. The report, which was commissioned by DFID, suggests the caterpillar of FAW could cause maize losses costing 12 African countries up to US$6.1 billion per annum, unless urgently controlled.
The delegates heard that in the second half of 2017, CABI was able to secure significant funding for both Plantwise and its Action on Invasives programme up to 2020 from DFID, the Swiss Agency for Development and Cooperation (SDC) and the Directorate General for International Cooperation (DGIS, Netherlands).
Dr Nicholls said, 'The Plantwise network has proven to be an invaluable part of the response to Fall Armyworm and during 2018 we will test the viability of a range of commercial products which could contribute to the programme's long-term sustainability.
'Plantwise continues to be a very strong programme with high levels of donor approval and significant international recognition. In fact, Impact assessment has shown that the programme generates significant economic benefits at both the national level and for individual farmers who adopt its advice'.
Dr Nicholls also highlighted that the integration of SciDev.Net, the world's leading source of reliable and authoritative news, views and analysis about science and technology for global development, has gone 'extremely well' and provides new opportunities for journalism training and support in addition to the core news website.
Looking forward to CABI's activities in 2018, Dr Roger Day, Action on Invasives Programme Executive, highlighted that the organisation and its partners are seeking a US$50 million investment to fight invasive species which would involve implementing a multinational invasive species framework.
Dr Day, said, 'We believe the Action on Invasives programme will contribute to improving people's livelihoods and food security, as well as countries' trade opportunities and commitment to environmental protection. This in turn will support the United Nations Sustainable Development Goals (SDGs), the International Plant Protection Convention and the Convention on Biological Diversity.'
Mr Alfred Tusanyuke Balinda, First Secretary, Uganda High Commission in London, said, 'Invasive species are disastrous for Uganda. Because of Fall Armyworm we are already experiencing food scarcity with falling maize production. CABI's work with NARO (National Agricultural Research Organisation) has significantly helped deal with controlling damaging Water Hyacinth in the past so we look forward to collaborating with CABI on tackling Fall Armyworm.'
Marc Jurgens, Counsellor (Multilateral), South African High Commission, London, said, "I would like to congratulate CABI for its excellent work in the field of invasive species. South Africa is acutely aware of the burden they cause, and we look forward to working in close collaboration with CABI in the future, fostering scientific partnerships in order to deal with these invasive species."
Related News & Blogs
CABI News
20 November 2023