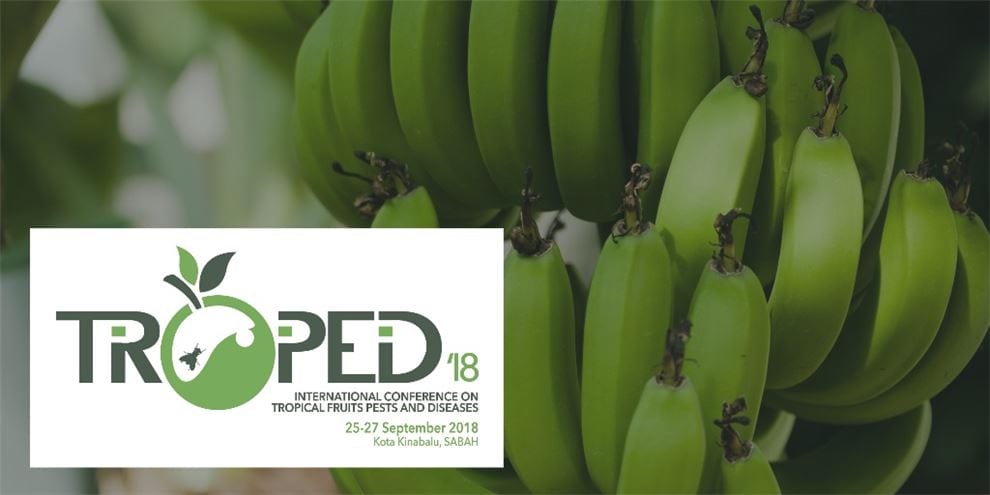 CABI scientists Dr Julie Flood, Dr Jayne Crozier, Dr Sivapragasam Annamalai and Muhammad Faheem are to share their expertise on plant health and food security at the first international conference on Tropical Fruit Pests and Diseases (TROPED) which will take place in Malaysia from 25-27 September 2018.
The International Tropical Fruits Network (TFNet), under the auspices of the Food and Agriculture Organization of the United Nations (FAO), is organizing the conference at the Le Méridien Kota Kinabalu in Sabah where the title will be 'Sustainable Solutions for Tropical Fruit Pests and Diseases.' The conference is supported by the Ministry of Agriculture and Agro-based Industry, Malaysia (MOA) and CABI is one of the co-organizers.
Dr Crozier, a plant pathologist at CABI, will deliver a keynote paper 'The Role of Plant Health in Food Security,' co-written with Dr Flood, CABI's Senior Plant Pathologist, while Mr Muhammad Faheem, an Integrated Crop Management Advisor at CABI, will present the Plantwise approach and its role in strengthening the National Plant Health System. Dr Annamalai, CABI's Regional Director, will present a lead paper on 'Emerging Trends in Plant Protection'.
Plantwise is a global programme led by CABI, which helps farmers lose less of what they grow to plant health problems. Mr Faheem will outline the case study of a Vietnam plant doctor and give a live demonstration of the Plantwise Knowledge Bank that provides an online and offline gateway to actionable plant health information and services -from pest diagnostic search tools to maps of pest locations and customized alerts on pest news in specific areas.
TROPED 2018 is being attended by a range of participants, including government agencies, researchers, commercial growers and exporters/importers, and will address the following thematic areas:
New and emerging tropical fruit pests and diseases
Challenges and opportunities in biosecurity and quarantine
Plant health, soil nutrition and disease-free planting materials
Advances in biological control methods
Advances in biotechnology research on tropical fruit pests and diseases
Developments in plant protection: Emerging trends and capacity requirements
Dr Sivapragasam Annamalai said: 'Tropical fruits are beginning to see significant growth in the global markets. New market opportunities and discerning consumer preferences are major drivers of this trend.
'However, like other horticultural crops, the incidences of pests and diseases are among the main factors that impede the sustainable production and marketing of tropical fruits. The International Conference on Tropical Fruit pests and Diseases (TROPED 2018) is a timely event that addresses the needs and challenges with the industry and provides expert knowledge against pests and diseases affecting tropical fruits.
'CABI's significant engagement in TROPED 2018 underscores its pivotal role as a leading organization with expertise in aspects of tropical fruit pests and diseases and their management.'
Another keynote presentation to be given at the conference will be from Dr Randy Christopher Ploetz from the University of Florida's Tropical Research and Education Center. He is an authority on tropical fruit crop diseases and was the first to study global populations of the Fusarium wilt on bananas.
Additional information
Find out more about TROPED 2018 from the conference website http://itfnet.org/troped2018/programme.php
You can find out more about CABI's recent project – improving SPS training and knowledge sharing in cocoa (CocoaSafe) here: https://www.cabi.org/projects/project/32840
Relevant books
'Arthropod Pests of Horticultural Crops in Tropical Asia,' by R Muniappan, IPM CRSP, USA, B M Shepard, Clemson University, USA, G Carner, Clemson University, USA, P Ooi, AVRDC – The World Vegetable Center, Thailand, CABI, 2012
'Tropical Fruit Pests and Pollinators: Biology, Economic Importance, Natural Enemies and Control,' Edited by J Peña, University of Florida, USA, J Sharp, formerly of USDA, Florida, USA, M Wysoki, Agriculture Research Organization (ARO), Israel, CABI, 2002
Related News & Blogs
CABI News
12 December 2022