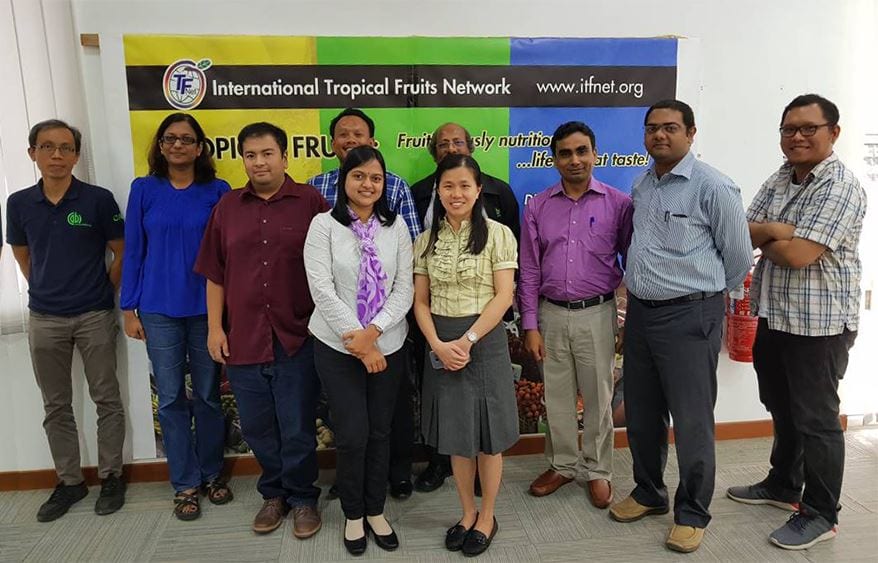 CABI is strengthening its working relationship with the International Tropical Fruits Network (TFNet) with plans to further collaborate on projects related to the management of pests and diseases.
CABI has been an Associate Member of TFNet since 2001 and previous collaborative work saw the development of the Malaysian Tropical Fruit Information System (MTFIS). It was recently agreed at a meeting at TFNet's headquarters in Serdang, Malaysia, that the two organisations will:
Embark on an awareness drive through workshops, seminars and conferences. This includes a forthcoming regional conference on pests and diseases of tropical fruits and CABI experts sharing their knowledge – particularly on banana diseases.
Improve TFNet's Tropical Information Database. CABI will help include more information on pests and diseases and a link to CABI's Plantwise Knowledge Bank may also be added.
Further surveillance on pests and diseases on selected tropical fruits for improving market access. CABI will collaborate with TFNet on Sanitary and Phytosanitary Measures (SPS) studies for selected countries. The study will identify biosecurity issues affecting member countries and the required SPS by importing countries. The findings will be compiled and published.
Dr Sivapragasam Annamalai, CABI's Regional Director in Malaysia and Plantwise Regional Team Leader, said: 'Tropical fruits, of which around 80 percent of global production is the result of smallholder farming, play an important role in providing a balanced diet and help curb hunger as part of the UN-s Sustainable Development Goals.
'Our commitment to collaborative working with TFNet not only builds upon past successes but looks forward to a programme of activity this year which will further moves to strengthen food security in Malaysia and beyond.'
The news comes a week after CABI launched its Action on Invasives programme which aims to improve the farming for 50 million poor households by tackling invasive species. For more information about the programme and CABI's work on invasive species, please visit: www.invasive-species.org
TFNet published an article on its website in relation to the commitment to more collaborative working with CABI in 2018, you can read it here.
CABI in Malaysia
For more information on CABI's work in Malaysia please visit the centre home page.