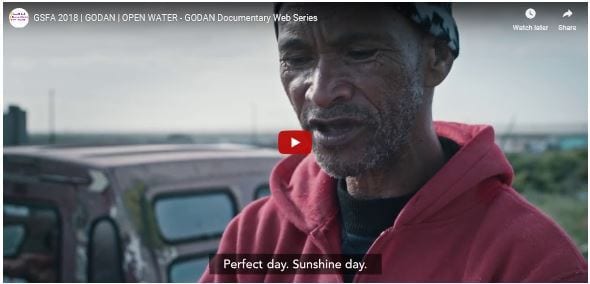 28 November 2018 – CABI staff have played a key role in helping to direct GODAN's Open Water documentary web series which has scooped the Global Digital Futures accolade at the Global Sustainability Film Awards.
GODAN, of which CABI is a founding member and a host for the organization, supports the proactive sharing of open data to make information about agriculture and nutrition available, accessible and usable to deal with the urgent challenge of ensuring world food security.
The Open Water documentary is part of its open data web series that meets individuals around the world who are at the front line of how technology and data are reshaping agriculture to combat food insecurity and improve global nutrition.
The competition, which culminated in a glitzy awards ceremony at British Academy of Film and Television Arts in London, focuses on the UN Sustainable Development Goals, which set ambitious targets for world development: eradicating poverty and hunger; ensuring good health, quality education and gender equality; and setting targets for affordable and clean energy, climate action and responsible consumption and production.
Find out more about GODAN's Open Water documentary web series.
Related News & Blogs
CABI News
CABI has been awarded a $1.49 million grant from the Gates Foundation to work with them to help increase food security in India and Ethiopia through better access to data on soil health, agronomy and fertilizers.
21 January 2019