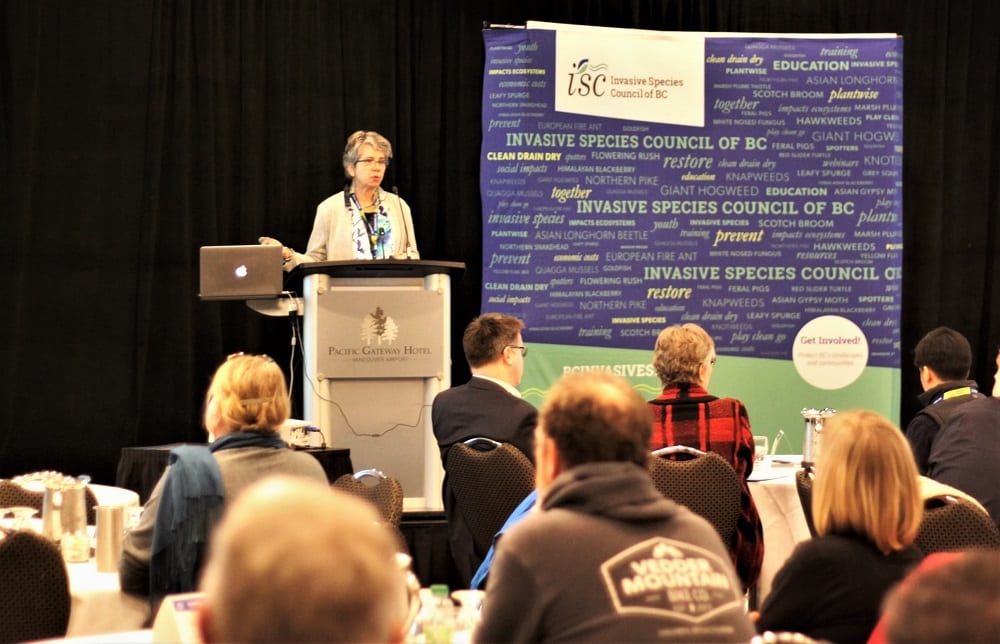 CABI has showcased its expertise in biological weed control at Invasives 2020 – the Invasive Species Council of British Columbia's (ISBC) 15th Annual Forum & AGM which was held at the Pacific Gateway Hotel in Richmond, Canada.
Dr Hariet Hinz, Country Director and Head Weed Biological Control based at CABI's centre in Switzerland, delivered two presentations at the event – 'Weed biocontrol – what's in the pipeline for Western Canada' and 'Current and future issues in classical weed biocontrol', which included experts from academia, non-profit organizations, government, industry and members of the public.
Invasive plants can pose serious threats to native species, ecosystems, human health and many sectors of the economy such as agriculture, forestry and tourism. However, biocontrol is an environmentally friendly, cost-effective and sustainable way of managing invasive species and has been used effectively for more than 100 years.
Dr Hinz said, "CABI has over 60 years' experience of working on the biological control of invasive weeds and has collaborated with Canada from the beginning.
"More than 50 biological control agents have been released based on the work carried out at CABI in Switzerland. Many of these are currently contributing to the successful control of important North American weeds such as leafy spurge, toadflaxes, knapweeds, houndstongue and purple loosestrife."
CABI scientists in Switzerland are currently investigating, as highlighted in Dr Hinz's presentations to Invasives 2020, potential biocontrol agents for 16 invasive plants – mainly for Canada and the US. These include for instance a root-mining hoverfly for invasive hawkweeds, additional agents for Dalmatian and yellow toadflax for more northern regions and an eriophyid mite on Russian olive.
In the pipeline is also the shipment of a new population of the psyllid Aphalara itadori for control of Japanese knotweed that her colleagues from CABI's UK Centre collected in Japan in 2019.
Dr Hinz added, "The Invasives 2020 was a great opportunity to share the very latest scientific research with a range of partners and donors such as the British Columbia Ministry of Forests, Lands, Natural Resource Operations and Rural Development which has enjoyed a relationship with CABI for more than 60 years.
"Importantly the forum was also a chance to ask questions about current issues surrounding the biological control of invasive weeds such as its efficacy and environmental safety."
Additional information
You can view Dr Hinz's presentations to Invasives 2020 below:
Find out more about CABI's work on the biological control of invasive plants including more project highlights in this field of expertise as well as more from CABI in Switzerland.