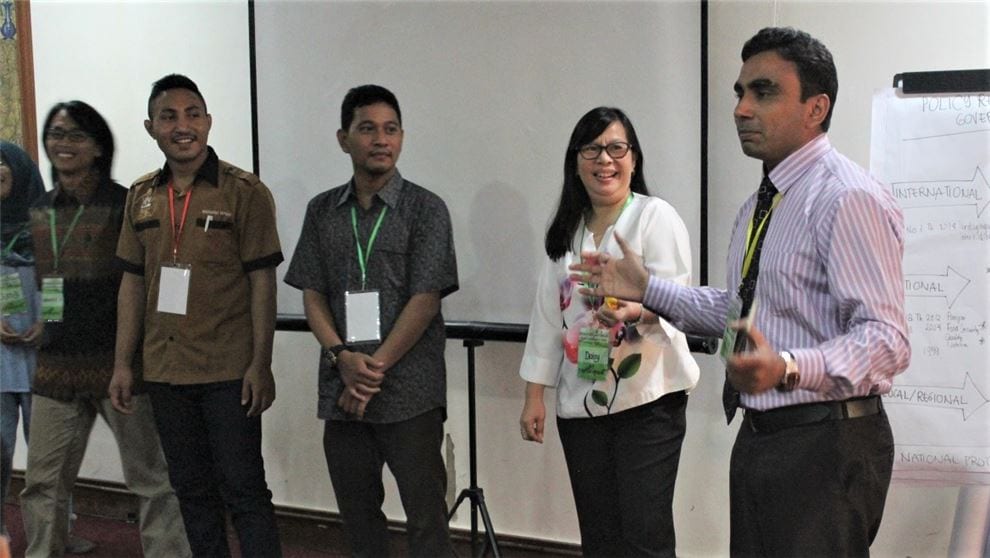 CABI has shared its expertise in biosecurity and its links to food security, trade and market access at the International Master Class (IMC) in Plant Biosecurity held in Denpasar, Bali, Indonesia.
Muhammad Faheem, Integrated Crop Management Advisor based at CABI's Malaysia office, delivered a one-day course at the event where the Bilateral Plant Biosecurity Initiative (BPBI) between Indonesia and Australia pointed out the need for greater training and awareness of the national, regional and global challenges of biosecurity and to build capacity to meet biosecurity needs.
The IMC in Plant Biosecurity, which was co-funded by the Crawford Fund and the Plant Biosecurity Cooperative Research Centre (PBCRC) and hosted by the University Mahasaraswati Denpasar, Bali, brought together 30 additional Indonesian participating organisations that represented a significant contribution to meeting biosecurity needs in Indonesia. In-kind resource support for the event was provided by CABI.
Mr Faheem highlighted CABI's different global initiatives via lecture presentations, discussion sessions, video presentations, and simulation exercises. While understanding aspects of biosecurity, the course also taught how four components of food security and various forms of food insecurity are directly impacted by bio-risks, thus reiterating the importance of biosecurity for food security. Participants were happy to learn about the key pathways and strategies to address the biosecurity and mainstreaming of biosecurity for food security.
Two CABI projects and experiences were shared with participants – the industry biosecurity plan for Malaysian oil palm and the Australia-Africa plant biosecurity partnership.
Twenty six participants from a diversity of regions and sectors of the Indonesian economy were also taught about the concepts of trade and market access, and how it relates with the risks of biosecurity.
Mr Faheem said, 'By breaking down the barriers in agricultural trade, we can get safer, quality produce from farmers to consumers. The participants were briefed about the tariff and non-tariff barriers to market access and measures to address the technical barriers for better trade and market access.'
To illustrate this, some case studies of CABI's projects were shared and discussed to address biosecurity issues in the country, for example, building SPS capacity in cocoa supply chains.
During the course, Mr Faheem also explained about CABI's Plantwise programme – which addresses the food security by reducing crop loses – sharing vital knowledge and strengthening the plant health system in the 34 countries where it operates globally.
In Plantwise, 2,842 plant clinics are running by 9,209 trained plant doctors and served 18.3 million farmers from 2011 to 2017. Some new ICT innovations were also introduced for data management, analysis and access to knowledge.