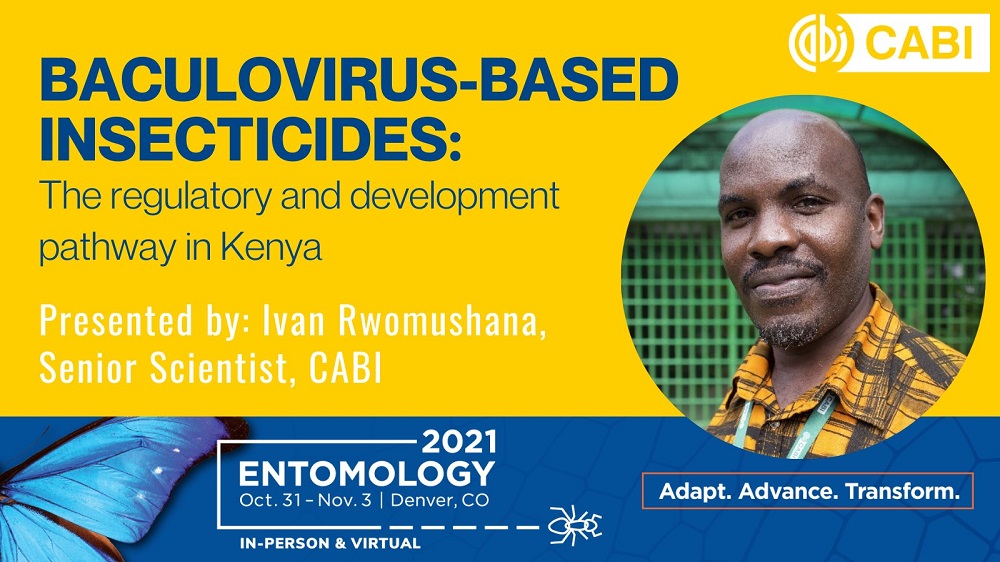 CABI scientist Dr Ivan Rwomushana is sharing his expertise on baculorvirus-based insecticides to control crop pests – with a specific focus on examples from Kenya – as part of a presentation available online at the Entomology 2021 conference.
Dr Rwomushana has recorded his thoughts on the subject in a video which is available to download to registrants of the event – organised by the Entomological Society of America (ESA) – attending either virtually or in person in Denver, Colorado, USA.
The ESA, founded in 1889, is the largest organisation in the world serving the professional and scientific needs of entomologists and individuals in related disciplines and holds its annual conference from 31 October to 3 November – though its virtual programme of over 400 symposia presentations, 460 10-minute presentations and 150 posters and infographics are available through to 31 January 2022.
Baculoviruses are widely used pathogens in the control of crop pests. When integrated into good crop management programs, baculoviruses can keep pest levels under control, reducing the need to apply pesticides thus reducing overall control costs and the risk of significant yield loss.
Dr Rwomushana said, "Baculoviruses generally have a narrower target spectrum than most pesticides and do not pose the same health risk to spray operators, and the environment. They also have the ability to self-replicate, and can provide season-long pest suppression. However, widely used globally, very few baculovirus products are approved for use in Kenya.
"If more suitable products were available for use, they would offer safer alternatives to synthetic pesticides. Consequently, the Government of Kenya through the Pest Control Products Board is fast-tracking the registration of baculovirus products.
"Spodoptera frugiperda nucleopolyhedrovirus (SfMNPV) is a recent example of a baculovirus registration in Kenya. However, this process took nearly three years for the product to attain approval, with the lengthy testing and registration procedures identified as the major hindrance."
He added that the recent harmonization of guidelines for registration of baculoviruses in the East African Community (EAC) will reduce the time and costs associated with registration of biopesticides, and ensure farmers have access to safe and quality crop protection products. This will be achieved through harmonized trial protocols, data requirements and evaluations.
"This milestone now paves the way for the mutual recognition and sharing of data on baculovirus trials, and subsequently shorter timelines and simultaneous baculovirus products registration in the six EAC Partner States," Dr Rwomushana added.
You can find out more about Entomology 2021 and Dr Rwomushana's presentation here.
Related News & Blogs
CABI News
10 November 2023