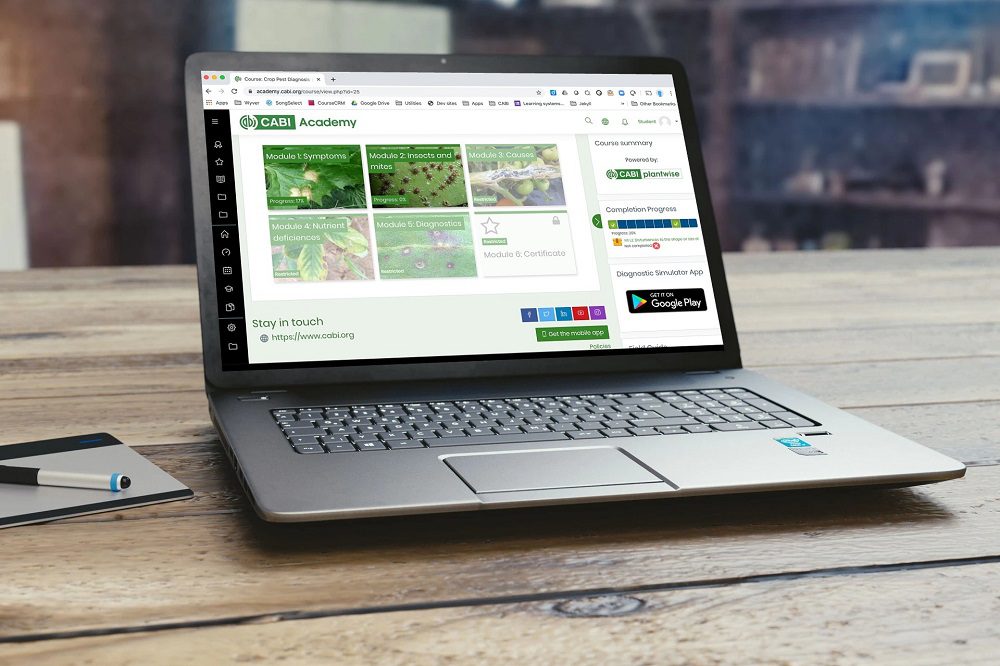 The CABI Academy, which addresses a multitude of agricultural challenges faced by smallholder farmers around the world, is now available in Bangladesh – thereby helping extension workers to advise on how to best tackle issues such a crop-devastating pests and diseases.
The full suite of courses and resources contained within the CABI Academy platform – which is powered by the CABI-led global PlantwisePlus programme – can now be accessed digitally and online in Bangladesh and includes courses on Crop Pest Diagnosis, Crop Pest Management and the free eBook resource – the Diagnostic Field Guide.
Sharing knowledge
The launch is part of CABI's mission to share knowledge, work in partnership, focus on people, work for the long term and be objective and impartial in working towards the UN's Sustainable Development Goals (SDGs) – particularly, in this case, SDG4: Quality Education which in turn can contribute to SDG1: No Poverty and SDG2: Zero Hunger.
The CABI Academy builds on CABI's scientific and publishing background. It translates the latest research and innovations into programmes designed to help students and professionals make a difference. Under the CABI Academy banner, we provide a range of products and services that includes a suite of high-quality digital teaching and learning resources, practical face-to-face training, blended change programmes comprising of self-study and facilitated workshops and digital resources.
Mark Berthelemy, CABI's Digital Learning Manager, said, "In the CABI Academy, we partner with world-leading universities, research organisations, and businesses – taking up-to-date knowledge – and turn it into practical, action-based resources and learning activities.
"We are keen to support all our Member Countries, of which Bangladesh is one, with our suite of digital online teaching and learning resources to ultimately help their smallholder farmers be better equipped to diagnose and manage a range of potentially devasting crop pests and diseases.
"This is inline with CABI's missions in helping towards achieving the SDGs – but particularly in contributing to greater regional, national and global food security as well as a general increase in the livelihoods of farmers and their families."
Range of other services
CABI's Digital Learning Team as part of the CABI Academy also provide a range of other services that include consultancy and learning design as well as the platform itself.
Using the Skills Framework for Agriculture as our base, we can help you to devise a sustainable strategy for training and performance improvement. In addition, our team of user researchers, learning designers, user experience specialists, graphic designers and testers are available to help you create high impact experiences and resources.
The CABI Academy is provided in partnership with Cultivating New Frontiers in Agriculture (CNFA), the University of Neuchâtel in Switzerland, SciDev.Net and NextGenU.org
Additional information
Main image: The launch of the CABI Academy in Bangladesh is part of CABI's mission to help improve food security and the livelihoods of smallholder farmers in the country (Credit: CABI).
CABI Academy
The CABI Academy is part of CABI's mission to create and apply knowledge that addresses challenges faced by people around the world.
Our team of learning specialists work closely with subject matter experts to create certifications and courses. These are designed to support those who offer advice to smallholder farmers.
By gaining a CABI certification, you demonstrate that you are serious about providing good advice.
Our online courses will help you to gain those certifications.
Our certifications and courses are mapped to the global Skills Framework for Agriculture.
Find out more at academy.cabi.org
Related products and services