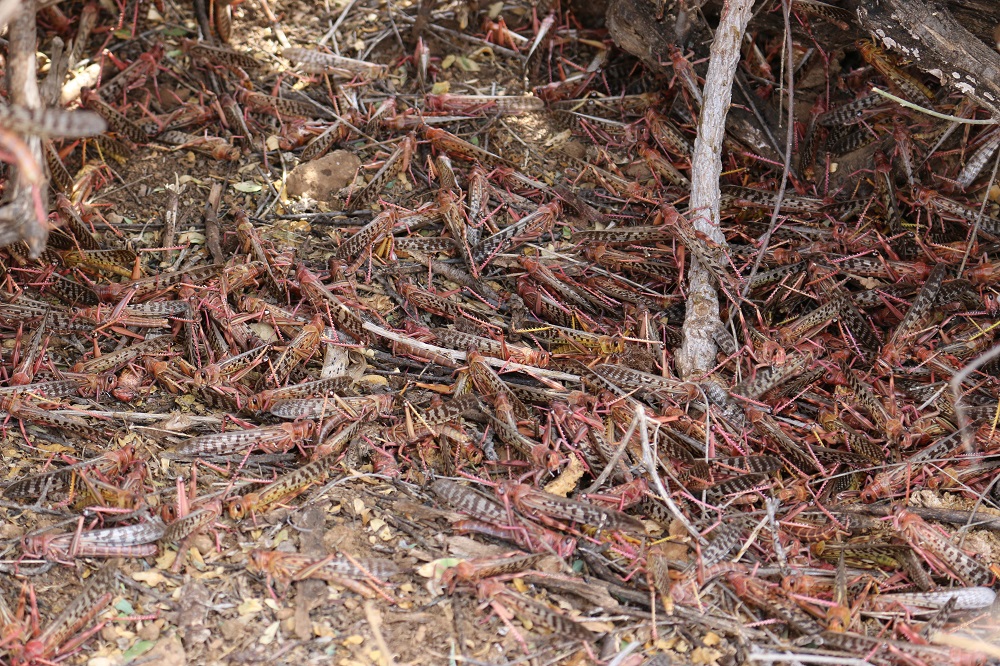 CABI is working in partnership to utilise space-enabled remote sensing technology to help tackle migratory locusts and the fall armyworm in China and Laos with an emphasis on promoting more environmentally-friendly biopesticide controls.
The BioSpace project, funded by the Science Technology and Facilities Council, will act as an early-warning system – by adopting Earth Observation (EO) and meteorological data – to provide information to farmers and agricultural authorities to help manage pest risk more sustainably.
Pests and diseases cause significant losses of crops around the world and are a significant threat to food security. In China and Laos, locusts affect over two million hectares of agricultural land and, recently, the fall armyworm is becoming prevalent in China and Southeast Asia, already affecting 35,000 hectares of maize in Laos.
BioSpace, which is working with partners including the Lao People's Democratic Republic, Ministry of Agriculture and Forestry and the Aerospace Information Research Institute Chinese Academy of Sciences, will build upon previous work on locust forecasting and promote the use of biopesticides by validating the models in the different climatic region of Hainan, Southern China. Other partners include National Agro-Tech Extension and Service Center (NATESC) and Assimila.
Dr Belinda Luke, Project Manager and Principal Scientist, Biopesticides Team at CABI, said, "Managing the damage from pests can be difficult. There is often a lack of detailed information on where risks to crops are greatest, inappropriate, or ineffective control measures are used, and there is a resistance to chemical pesticides.
"Furthermore, the overuse of chemical pesticides causes environmental damage in the form of biodiversity loss through chemical residues being left in the environment and on food.
"We have shown that EO data can be used in Shangdong, Eastern China and now want to confirm what effects a different climatic region has on the models produced."
The BioSpace project will also focus on adapting models to different locust species while simultaneously giving expert advice in helping Laos to control the yellow spined bamboo locust with environmentally-friendly biopesticides.
CABI will also work closely with NATESC to start Beta trials of the BioSuccess app (developed as part of a European Centre for Medium-Range Weather Forecasts (ECMWF) funded project) which will aid decision-making on when to apply biopesticides.
Additional information
Main image: Roosting locusts (Credit: Ivan Rwomushana/CABI).
Project page
Find out more about how CABI is working in partnership to use space-enabled remote sensing for long term sustainable growth of biopesticide use through the BioSpace project page here.
Related News & Blogs
CABI News
10 November 2023