Regular meetings and events for member country representatives include:
Quarterly Update Briefings by CABI CEO (Virtual)
Review Conferences
Executive Council Meetings
Regional Consultations
CABI open days
Quarterly Update Briefings by CABI CEO (Virtual)
CABI has now planned to set up a routine of quarterly update briefings via videoconference for all Liaison Officers and Executive Council delegates. These briefings will be aligned with the CABI Governing Board calendar (June, October and December) to augment the face-to-face Executive Council meeting in March so that Member Countries can be made aware of business and financial progress, risks and opportunities, as well as key decisions and recommendations made by the Board.
Upcoming events
2023: 26th January, 22nd June, 5th October | Virtual
Past events
2022: 20th January, 28th July, 19th October | Virtual
2021: 12th January, 13th July, 20th October | Virtual
2020: 20th October | Virtual
Executive Council meetings
The Executive Council approves CABI's annual accounts and budgets, the admission of new members and key policy decisions. The Executive Council usually meets once a year with additional postal or email communication as necessary to monitor CABI's affairs and to implement Review Conference resolutions.
Upcoming events
2023: 2nd March | Virtual
Past events
2022: 3rd March | Virtual
2021: 4th March | Virtual
The 401st Executive Council meeting was held, for the first time virtually, on Thursday 4th March 2021. Representatives from many of CABI's 50 Member Countries, including CABI's newest member, Ethiopia, were welcomed by CABI's CEO, Daniel Elgar, who reaffirmed CABI's commitment to supporting its Member Countries through the COVID-19 pandemic. Executive Council Members and representatives heard how CABI has adapted its activities in response to the pandemic, CABI's new offerings and future plans. Attendees also approved an updated and enhanced package of Membership benefits.
Read more about the meeting in our news story.
2021: 4th February (Executive Council Sub-Committee Meeting) | Virtual
2020: 4th March | Hallam Conference Centre, London
The 400th meeting of CABI Executive Council was held successfully on Wednesday, 4 March 2020, and some 30 member countries were represented at the meeting. At the meeting, Executive Council Members and representatives heard that in 2019 CABI continued to make good progress in delivering against the targets and milestones of CABI's 2017–19 Medium Term Strategy, and CABI had a number of very successful interactions with our Member Countries through Executive Council, the Africa Regional Consultation and the 20th Review Conference. CABI has now set new strategic goals in its Medium Term Strategy 2020-22, which was approved at the meeting.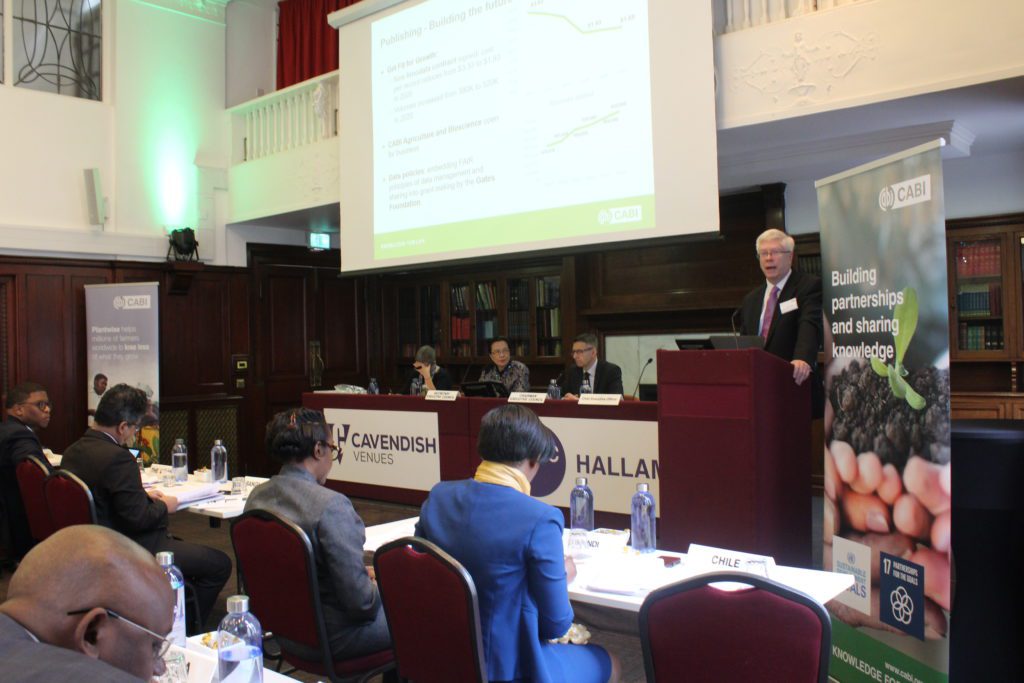 2019: 20th February | Hallam Conference Centre, London
2018: 7th February | Hallam Conference Centre, London
Review Conferences
The overall governance of CABI comes from the Review Conference of Member Countries, which reviews CABI's work programmes and determines its broad policies and strategies. Review Conferences are held every two to three years.
Our 20th Review Conference was held in Egham, UK on the 12-13 September, 2019. Building upon the previous Regional Consultations at which you, our Member Countries identified your future priorities and focus, this conference discussed in detail recent performance and CABI's long term strategy.
Regional Consultations
We regularly hold consultations to understand the key issues affecting agriculture and the environment in our Member Countries. Together, we develop priority areas in which CABI has the capability to address in some way. As previously, the consultation meetings aim to align our work with national and regional needs, develop frameworks for activities and set a path to ensure these are appropriately funded, resourced and translated into vital and effective programmes.
Regional Consultations take place in Africa, Asia and the Americas and Caribbean.
CABI open days
Familiarisation visits for London-based Executive Council members can be arranged. To find out more, please contact Dr Qiaoqiao Zhang, Memberships Director.